Top RC Trophy Truck, RC Short Course and RC Desert Bashers, blast into this epic hobby with our complete track truck buyers guide. If you are considering, researching or wondering what the best RC Trophy Truck options are currently available, this guide is just for you.
The RC Truck scene has exploded with all kinds of killer trucks, built for almost any type of bashing, crawling or racing. For high speed track racing and adrenaline pumping fun, a RC Trophy Truck is a must-have addition to your RC fleet.
There are now ton's of RC Trophy and Short Course Trucks available, even in different scales, 2WD and 4WD. Picking the right truck will depend on what you plan to do with it and of course, budget. Short course racing is a blast and allows you to race with local enthusiasts and RC clubs. When purchasing a Race Truck you should contact your local club / track and find out what class trophy trucks they race. Some like to race in 2wd 1/10 while others race large 4wd 1/8 scale and some both.
No matter if you are a newbie, a seasonal enthusiast or a veteran, there are a few trucks to be on the lookout for 2018. Like all our buying guides we spend hours testing, researching and collaborating with our local RC club to determine what we feel are the best RC Trophy Trucks available today.
Don't want to read the full article. No problem here are the 3 Top RC Trophy Stadium Truck Picks
FOR THE BEST ALL ROUND TROPHY TRUCK, YOU WILL WANT TO ADD THE TRAXXAS UDR TO YOUR COLLECTION
One of the latest releases by Traxxas is an RC vehicle that can give you a taste of a genuine desert racing adventure. Its name is Traxxas Unlimited Desert Racer. It comes in two models – Fox and RIGID, colored orange and red respectively. This Desert Racer was modeled with precision to be a ⅛-scale replica of a full-scale desert race truck. Its rugged tube chassis is true to scale and fully operational. With speeds reaching 50+ MPH and 6S power this truck is a true beast!
#1 - Best rc trophy truck
TRAXXAS Unlimited desert racer (UDR)
Our number one choice, the Traxxas UDR is a true beast.
The amazing scale appearance does come at a price, though. When driven, the truck's rear seems to slide around a bit too often. But, all things considered, that can be forgiven.
Thanks to the innovative inverted tub chassis, maintenance should be hassle-free. The battery compartment has its own, separate door, which makes battery replacement much easier. The battery compartment is quite versatile, as it can accommodate a wide variety of batteries.
For true Pro-Scale realism, authentic-looking chassis side plates mount straight onto the roll cage. Not only do they provide additional sternness to the overall structure, but they also prevent the debris from entering the cockpit. The greatest part of the chassis design is that, even without the body, the truck is going to look incredibly realistic.
Speaking of its body, the Unlimited Desert Racer is modeled with high precision in order to perfectly fit the frame. The interior is carefully designed to the minutest detail, which includes navigation, switches, safety gear, radios, and even driver figures. Moreover, the same intricate work applies to the design of molded body details like the batteries, floor jack with handle, oil cans, fire extinguisher, etc.
Another thing that is worth mentioning regarding the exterior design of this RC Desert Truck is its wheels. Not only are there four authentic replicas of full-scale tires mounted on the vehicle, but there are also spares. You will find two extra tires on the rear frame. What's more, the frame itself contains a spare driveshaft which you can use for truck installation.
Moving forward, the dynamics of a real-like truck drive are delivered via a solid steel rear axle with twin Extreme-Travel GTR shocks that provide a smooth ride at each corner. The steel axles are accommodated in large steering blocks with oversized bearings.
Generally, what provides a thrilling driving experience when it comes to RC Baja Trucks are certainly the electronics. Traxxas Unlimited Desert Racer can handle extreme 6S LiPo power thanks to its VXL-6s speed control. It flows current into the motor via Max Cable wiring equipped with 6mm connectors. LED status lights will inform you of ECS status, while hefty fans keep temperatures at a steady level.
Experienced users have noted, however, that the truck will deliver most optimal performance on a 4s LiPo battery. Putting in a 6s LiPo increases the risk of the suspension being overpowered. That will just result in more serious crashes.
The manufacturer claims that the 2200kV motor can make the racer run for more than 50mph. However, most users report that they failed to push the truck to run faster than 30mph, which is still rather fast. To top that off, the fully waterproof metal gear servo promises a gripping driving experience in all weather conditions.
While it might not be the easiest to handle, this truck is realistic to scale. Buying either Fox or RIGID Unlimited Desert Racer secures not only innovative design but also a fun-ensuring performance.
#2 - Best Value trophy truck
According to Traxxas, Slash sets technology, durability and performance standards in the category of RC short course trucks. It brings about a variety of innovative features which make it more predictable and easier to control. This Ready-to-Run truck comes fully assembled and with a painted body. You will not need to assemble it yourself. It is a scale replica of a CORR truck with authentic rims and tires, as well as a clean framework layout.
Speaking of the framework, the Slash boasts a monocoque chassis in an attempt to enhance durability and reduce the weight. The inventive modular simplicity of the racer allows for easy part removal in case of glitches or damage. Furthermore, the racer's vital components are stored in the waterproof housing. That means that you can let it run through water, mud and even snow. What's more, this type of housing deflects dirt and debris from the engine.
One of the features that Traxxas is most proud of is definitely the Traxxas Stability Management (TSM). TSM will give you a chance to experience the raw power and acceleration potential of the Slash on a number of terrains. The system minimizes the chances of control loss even in extreme conditions such as being run on ice. Thanks to its ultra-plush long-travel suspension, the Slash is capable of absorbing bumps and blows at the speed of up to 30mph. Although not the fastest specimen in the category of RC short course racers, users agree that it provides an accurate simulation of a full-scale racer.
In case you are new to RC Short Course racing, Traxxas Slash has a special treat for you. You can program the remote control to run in training mode. All you need to do is press a button that will limit the full-throttle power by 50%. Granted, doing that will not give you a chance to immediately run the truck at full speed. It will, nevertheless, give you a chance to get used to steering it before you start bashing it. Moreover, if you want to be on top of the truck's performance, you can connect the RC with your iPhone or iPod. Basically, you can install a telemetry system at a reasonable cost. As a result, you will be able to keep track of the vehicle's speed, engine temperature, and so on. As far as its durability on harsh terrains is concerned, you can rest assured that the Slash is equipped with sturdy metal gears and lasting plastic parts.
If you are looking for a truck that takes racing to a whole new level, this might be a perfect choice for you. While it may not be the fastest among trucks, it certainly offers desirable state-of-the-art features.  Thanks to its training mode, it is suitable for both children and adults. The innovative design of Traxxas Slash makes it fun to drive on any terrain, rain or shine. You can't go wrong with this rc trophy truck.
#3 - Best Race Ready Trophy Truck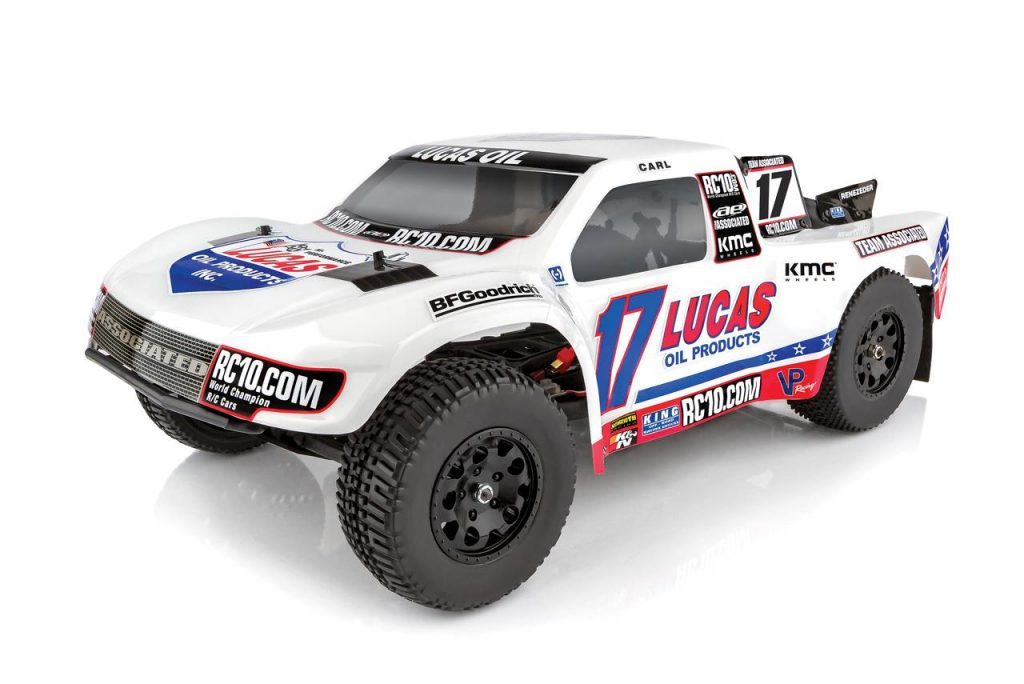 The SC10.3 by Team Associated is a revamped version of the most potent contender to Traxxas Slash, the SC10. Just as its predecessor, it is a scale replica of trucks seen in the Lucas Oil Off-Road Racing Series. It has won a number of awards, and it is a very popular vehicle on the market. SC10.3 is a perfect choice if you are just a newbie looking for your first RC truck. It offers top-notch performance, and it promises to turn you into an instant racing fan.
The truck comes with an extremely lightweight 2.4GHz transmitter. It has two channels and metal gear, as well as a metal high torque servo. It boasts a lightweight course racer truck body on a Low-Center-of-Gravity chassis that can run on virtually any terrain. Although the paint job is not the most intricate one you will see, it will be protected with a plastic film that you will have to remove. Four body clips are connecting the body to its framework.
What's more, its soft-plastic front bumper is built to endure impact and is reinforced with a skid plate. However, there is no skid plate on the rear bumper. It only has two mud flaps. The independent suspension system is very durable, with four aluminum V2 coils over the shocks. The battery tray is incredibly convenient, as it does not require removing a large number of screws to get to it. Additionally, Team Associated made sure to provide a piece of foam you can insert to make different-sized batteries stay put.
The ECS is waterproof, and it comes complete with a fan and fins on top. You can either run the truck with LiPo or nickel-metal hydride batteries. The SC10.3 truck has powerful Reedy 3300kV motor in a black aluminum case. The case is given extra protection with a durable plastic motor guard to prevent any damage.
Moreover, the truck comes with aggressive high-traction tires that were designed for off-road driving. What makes them particularly interesting is that rear tires feature a spoke tread, while the front tires feature a dirt track tread. Furthermore, both front and rear tires contain foam inserts and are glued onto the wheels. Regardless of the fact that it is an entry-level vehicle, RC10.3 leaves a lot of space for further upgrading. It comes with a great lightweight body and a dependable suspension system. If you are still learning your way around RC short course trucks, this one is a perfect choice for you.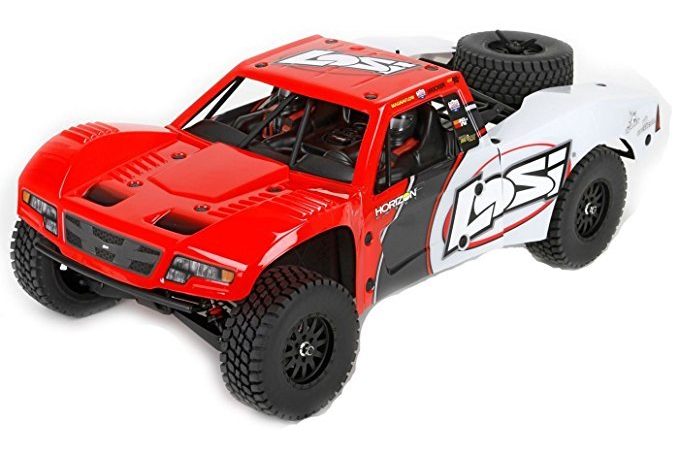 Dubbed the biggest competition to Axial Yeti Score, Losi's Baja Rey Desert RC Truck is a realistic 1/10-scale short course racer/rc trophy truck. It comes in a box, pre-built in the factory and ready to run. Keep reading if you want to find out what makes it so popular. This desert racer has a state-of-the-art chassis that is sure to provide a realistic desert truck experience. Losi went all out in developing a truck framework that would balance out scale realism and 4WD capabilities. The aluminum chassis plate serves as a basis for an authentic scale roll cage. Moreover, this truck takes special pride in its fully functional independent long-travel front suspension and rear axle.
The body design is immaculately realistic, making Baja Rey look like a full-scale off-road truck. However, there is a downside to it. Namely, the entire cage is screwed down to the chassis. In order to separate the two, you need to remove twelve screws. We suggest that you use a cordless drill to save time. Like many other RC race trucks, Baja Rey has a brushless motor. Together with a waterproof 130A ESC, the 3800Kv motor makes for a potent electric power system. The best part about the power system is its accessibility. It is conveniently placed on the bottom of the chassis, with only three screws holding the lid.
What particularly differentiates Baja Rey from other RC desert trucks are its enclosed battery box and the rear battery door. The power system can handle 2S and 3S LiPo batteries. You will need to purchase them separately, as they do not come with the truck. It shows impressive power from the dead stop. Depending on the terrain and weather conditions, it can run at speeds between 25mph and 45mph. The stock servo is one of several waterproof parts on this truck. Though it could offer a decent amount of steering control, experienced users recommend replacing it with a more powerful aftermarket unit.
Baja Rey's sturdy build and raw power make it perfect for aggressive driving on most fields. Its aggressive tires were made to tackle tough terrains, including up to several inches of grass and smaller rocks. Bashing with the truck will result in a minimal body and chassis damage. Indeed, you can run it on the pavement as well, but it will exhibit the highest performance off-road.
Finally, user experience shows that the racer can be quite an off-road beast after a few tweaks. On the whole, it has a great body and cage, wheels made for off-road rage, and loads of power. If you are into customizing and bashing RC trucks, then Losi Baja Rey Desert Truck should be your number one pick. Though it may not be a perfect truck, it is certainly a solid buy
RedCat Racing Eblackout sc
If you want a rc trophy truck that will give you an adrenaline rush, then look no further than Redcat Racing Blackout. This realistic 1/10 scale monster truck is sold at very reasonable prices in both brushed and brushless version. First of all, do not let the Redcat Racing Blackout XTE's affordability fool you. The vehicle looks anything but cheap. Both the truck and the SUV body are made of seemingly thin but durable plastic. Although they both look cool, users report that the SUV body is more prone to breaking upon impact.
As far as the material used for components is concerned, Redcat went all out. You will see steel driveshaft and axles, thick aluminum front and rear shock towers and large shocks. The stock parts are made of first-rate composite plastic, but you can get aluminum kits and upgrade the vehicle to improve its durability. Moving on, the stock tires that arrive with the vehicle are a bit narrower than the ones you can see on Traxxas Stampede. However, they are nearly identical in terms of design, and are, therefore, the best stock tires you will find.
The greatest feature of this RTR monster truck is that most of the parts are interchangeable. For example, if one of your suspension arms gets broken, you can use any of the spare suspension arms from the kit. It does not matter if it is left or right, front or rear – all four are identical. Similarly, the steering hubs, hub carriers, bumpers and diff units are all interchangeable front to rear. Now, most companies brag about their electronics being waterproof. However, once tested, most of them prove to be only water-resistant. In that respect, the Blackout XTE will come as a great surprise. The vehicle has proven to perform normally not only in snow but also after being thoroughly washed under a tap. Now, that does not mean you should go and completely submerge the truck under water. It does, however, mean you will be able to run it even on rainy days.
Next, the stock steering servo might be a little slow for an experienced RC racer. However, it will not ruin the overall bashing experience. Experienced users claim that the handling gets much easier after some thicker oil is added to the shocks. In case you are big on long airtime during jumps, consider placing the threaded collars a bit lower. Aside from the obvious difference in body design, another stark difference between the two models is the motor. One model has an RC550 brushed motor, while the other has a 3800kV brushless motor. Both come with an electronic speed controller and a 2.4GHz radio system. On the other hand, one of the few possible downsides to a Redcat RC trophy track is the lack of effortless maintenance. Namely, even though most parts are interchangeable, they are not easily obtainable either online or in local hobby stores.
Finally, both the brushed and the brushless versions run at speeds between 30mph to 40mph. While that definitely does not make them the fastest on the market, it does make them suitable even for newbies. Its affordability and durability just add to the reputation of a great first RC truck. Therefore, choosing the Redcat Racing Blackout XTE cannot be a wrong decision.
The Rally Monster Brushless Pro is one of the top-class RC short course trucks. Exceed tirelessly works on improving speed, adjustability, and durability of its vehicles, and this one is no exception. This 4wd comes pre-assembled, painted and ready to run. The kit includes a stock charger that is compatible only with the stock battery. Bear in mind that it might take two to three hours to fully charge the 7-cell NiMH battery. If you are looking to upgrade it, you can use a 2S LiPo, as well.
The Rally Monster comes with a standard 2.4GHz radio transmitter. Looking at the options that it offers, it is great to see that you can turn down the throttle sensitivity and go in reverse. Some fine tuning options are always welcome. The transmitter is powered by 4 AA batteries, which means it is very long-lasting. The only possible downside to it is that the distance at which it can control the vehicle does not exceed 40 yards. At first glance, the Rally Monster might seem a tad smaller than other 1/10 scale trucks. Some professionals would say it looks more like a 1/12 scale. Be that as it may, it is quite a handsome vehicle, not to mention that it does run all standard 1/10 scale components. Basically, its slightly smaller size only improves the power to weight ratio and the truck's performance on the track.
The body is made from standard lexan, which makes it extremely lightweight and durable. Under the body, you will find an aluminum top plate that holds all components in place. What sets this truck apart from its counterparts is the aluminum framework atypical of RTRs. The truck boasts an adjustable servo saver and steel-threaded turnbuckles. That means that the suspension system is fully adjustable. Finally, the front and rear oil-filled shocks are made from aluminum as well. The gearbox is fully enclosed, thus prolonging its life and keeping the debris out. The same kind of protection is applied to the motor. The 12T brushless motor will run the truck really fast even on stock battery.  It can reportedly go for 25mph to 30mph. Furthermore, experienced users reported losing control, so the programmable 45 amp ESC will come in very handy. The fan on top of it will keep everything nice and cool.
On the other hand, the robust front and rear bumpers have proven to be prone to bending on impact. Aside from that, the Rally Monster will reportedly rip the dirt like no other truck. Reports show that the truck is a serious bashing material, as it can endure harsh terrains and serious smashing. As far as wheels and tires go, the Rally Monster will not hit the top lists. Although the manufacturer advertises chrome plated rims and off-road treaded tires, you can expect far less than that. The rims are prone to breaking when they come into contact with pebbles or smaller stones. Additionally, the tires will underperform on off-road obstacle courses, as they will lack firm grip.
Now, this kind of a setup will surely provide an extreme off-road experience. The motor has proven to be both reliable and durable in harsh conditions. The truck is extremely responsive and will provide loads of fun. Overall, Exceed Rally Monster is a great product for a reasonable price.
FINALS NOTES
If you have reached the end of our seemingly endless list of trucks, you now know a whole bunch of things about the most popular vehicles. But, believe us, learning about them is not the hard part. It is picking out one that you really want.
The first thing that you will want to consider if you are new to the hobby is how easy it is to drive the truck. On the whole, brushed motor racers have proven to be easier to handle. On the other hand, if you are looking for a truck that will give you an authentic racing experience, you should purchase something with a brushless motor.
Second, you probably noticed that we only suggested RTR models. Indeed, building your own RC track racer is an awesome concept. But, if you are looking for a hobby that you can keep under a budget, ready-to-run vehicles are a sure way to go.
Third, consider the terrain prior to actually buying the truck. Not every model will perform equally on pavement, dirt, grass, sand, rocks, etc. Moreover, not every vehicle is fully waterproof, so you will also have to consider if you want to run it in rain or snow, or through puddles.
RC Short Course Racers may not be exactly what you are looking for. There are countless types of RC Trucks to discover on 10TrailTruck.
All in all, we hope that our list of best short course and desert racers for 2018 was helpful. Have fun racing!