Growing up, monster trucks had always been a passion of mine. But it wasn't until I saw my first monster jam truck show that I really got inspired. I remember the excitement and experience so much yet cringing at the sheer sound and vibration in the stadium. Massive trucks blasting off huge jumps and crushing cars with zero effort. These magnificent beastly machines seemed unstoppable.
As cool as it would be to own a monster truck, this is really not realistic for most of us. Although, we can get pretty close to owning a monster truck. Just in a scaled down mini version. What's really cool is there are RC manufactures that make scaled versions of our favourite Monster Trucks. Trucks like the GraveDigger and Bigfoot.
Even if you are not interested in getting a scale truck, there is a plethora of RC monster trucks available to buy. Too many choices in fact. If you have been following my other guides you know I have an obsession and sickness for RC. Seemingly endless, constant, revolving RC inventory. This has, however, allowed me to try out lots of cool RC products.
So I created this RC Monster Truck Guide to help point you in the right direction. Because as we all know there is a lot of disappointing junk out there. Especially nowadays and in the RC industry.
Now I know not all of you guys have big budgets and will be looking for a different set up… So in this guide, you will find my top 3 picks for Ultimate, Value, and budget buyers.
Now lets get down to business! Below are my top recommendations based on durability, performance, features, and MONSTERNESS.
Don't want to read the full article. No problem here are the 3 Top Monster Truck Picks
FOR A RC TRUCK THAT CHECKS ALL THE BOXES, YOU SHOULD SERIOUSLY CONSIDER THE TRAXXAS XMAXX
Traxxas products are a love hate for many RC enthusiasts, but we can all agree the XMaxx is something out of the ordinary. My club colleagues all agree there is no other RC Truck on the market that offers the same level of experience was the XMaxx.
"This thing is a beast and gives my hours and hours of monster bashing, racing and jumping fun."
Now I know it's not the most affordable truck, but once you see or run it in person, you will be instantly convinced.
This is our number one choice from all the models we tried. The Traxxas Xmaxx eats up any terrain you throw at it and jumping it is a blast.
Traxxas is one of the rare companies that keeps surprising us with each of their new models. Also, we love the fact that they decided to make a new addition to the Maxx family. And, we have to say, this model definitely lives up to the name.
Straight out of the box you will have to notice the size of this monster. It is 30.67 inches long and 21.26 inches wide, and it weighs in at 19.1 pounds. To support all of the action you might want to get going on, it comes riding on Mammoth 8-inch tires.
The X-Maxx comes with the superbly powerful Velineon 1200XL brushless motor and a single speed transmission. Now, we have to tell you that it is not the fastest truck we have tested so far, but it just feels so incredibly powerful on rough terrain.
The top speed it develops with the pinion gear and two batteries is slightly above 50MPH. And the excellent super-plush GTX shocks are there to keep it from breaking or flipping.
The steering servo of X-Naxx comes with heat sinks and is capable of producing almost 23 pounds of torque by redirecting the huge front wheels.
Furthermore, this 4WD truck comes with several ingenious features. First of all, we want to at least mention the self-righting ability as our favorite feature. After all, we love going wild with our RC trucks. Other than that, it comes with a waterproof body, clipless mounting fully modular design, and many other features.
If you take a little time to see what the Xmaxx can do, you will want to buy it. With a bit of modding, it can drive on water, jump incredibly high, and even pull a real car.
Of course, we simply had to replicate most of the things we saw online. Believe us, you will love playing with this beast. We were capable of replicating the car-pull and the driving on water. But, sadly, our setup was not good enough to repeat some of the insane jumps we saw online.
All in all, this is an excellent truck that is an amazing purchase for anyone who is serious about RC vehicle driving.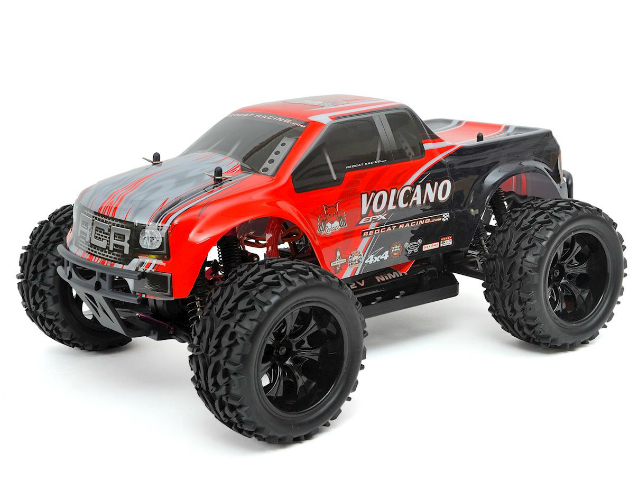 We decided on the RedCat Racing Volcano as our second choice. This is an excellent, inexpensive option for beginners. But if you want to "up your game" and start doing some trickier stuff, you might want to upgrade.
Are you a big fan of monster truck shows?
Well, in that case, this is possibly the best RC 4×4 for you.
It is powerful, it is rough, and it is great when you get to rough terrain.
The Volcano is just shy of 16 inches long, 12.2 inches wide, and it weighs in at 8.6 pounds. But, that is not what you are here for. Instead, what you want to know is how good this car handles and other nitpicky information.
So, let's start off by checking out the motor.
The Redcat Racing Volcano comes with a brushed 27T 540 motor that is powerful enough to give it a top speed of 20mph. Having a brushless motor would make it faster, but the brushed motor makes it a lot cheaper.
With that in mind, we would definitely recommend this inexpensive RC 4×4 to beginners.
The Volcano is also rather durable. However, there are several weak points too. Namely, the front suspension is not as durable as we would like it to be. The front bumper offers some protection, but, it's not enough when it comes to direct collisions.
We would advise some caution while jumping around with this monster truck. Or, if you don't want to slow down your ride, you can always get a hop up kit and outfit it with metal parts.
When it comes to handling, we have to say: it handles quite nicely.
Uneven terrain doesn't even bother the stability of this vehicle.
The wheels are large and offer a lot of grip, and the high clearance means that it can pretty much drive on any terrain. Furthermore, all of the crucial parts are waterproof to a degree so you won't have to worry about puddles.
The truck itself comes ready to run, and you can start using it straight out of the box.
So, in the end, it seems like this is an excellent inexpensive truck for beginners to use.
Our 3rd choice, the Hoism 9125 offers top value for money. It is our third choice, because although impressive, it is still a budget pick. The biggest shortcomings are a short 10 min run time and a lack of aftermarket parts.
If you have always wanted your own monster truck, this Hosim model will be all you desired and more.
With huge tires and more than a decent speed, this shockingly affordable RC monster will run over almost anything.
As soon as you unpack this bad boy, you'll notice how durable it is. It weighs in at 5.82 pounds, it is 15 inches long, 12.6 inches wide, and 7.9 inches tall.
Its Li-ion battery that has 1600mAH guarantees a decent runtime and the charging time isn't too bad either. You'll only have to wait 2.5 hours for this Hosim model to recharge.
Now that we got the basics out of the way, it's time to get to the fun stuff. This model comes with two motors that can provide an amazing maximum speed of 30mph. You can choose the first or the second gear, and this truck will simply jump to life.
The sturdy grip tires on 9125 have an aggressive tread, so you can go both on and off-road. Highly durable rubber tires are there so you don't worry about that when you're playing with this model. These wheels are heavy duty and anti-skid, therefore you can expect a premium performance and even climb slopes without a hitch.
The four-wheel drive, combined with the four-direction control will make racing in any direction a breeze. When Hosim designed this little beast, they had enthusiasts in mind.
Once you start testing this bad boy, you'll notice that it's sealed and that its ball bearings are perfect for rugged roads. Doesn't matter how rough you get with the 9125, its shockproof system and a steel chassis shaft structure will be able to take it.
Surprisingly silent and easy to steer, this truck is also waterproof, which is almost unbelievable for this price range. We checked how waterproof it is by simply driving through puddles, and nothing happened.
Then we drove it through really deep mud puddles, to see if it would get stuck or stop because of overwhelming amounts of water. However, nothing happened; 9125 simply breezed through, like it was nothing.
Whether you're looking to drift, turn, or flip, 9125 has it all covered, and for an incredibly low price.