If you're a proud Jeep driver, there is no doubt you're familiar with the Wrangler and the Cherokee. Heck, if you're an American, it's a guarantee you're familiar with these two iconic vehicle lines. The Wrangler and the Cherokee are arguably the two vehicles that pioneered and popularized the American SUV of today. It's hard to imagine how many families these two vehicles have touched since the launch of the first generation of Cherokees in 1974 and the first generation of Wranglers in 1986.
As enthusiasts, we love it when our RC vehicles truly feel like scale models. And, what more iconic vehicles to emulate than the Wrangler and Cherokee? 
Today, the Jeep Wrangler and Jeep Cherokee are recognized as having pioneered and popularized the modern SUV in America. With ubiquity like that, it's no surprise that they have inspired the creators of remote control vehicles to produce amazing scale RC Jeeps.
Below, we will check out some of the best RC Jeeps including Jeep Wrangler and Jeep Cherokee-inspired models that every Jeep enthusiast should know about and try out.
#1 - Traxxas TRX4 With Proline Wrangler Body Kit
Proline trx4 Jeep wrangler rubicon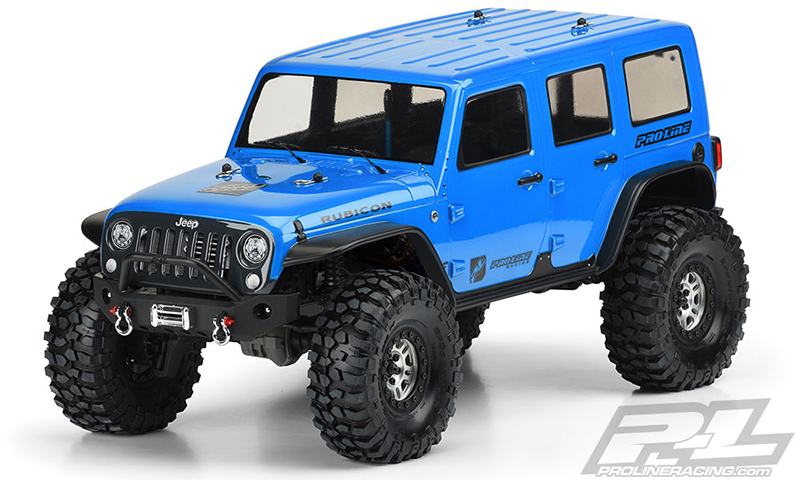 Traxxas has always been a master of scale realism, and the TRX-4 is no exception. The stock Defender Body features an injection-molded front grill, molded inner fenders, a front bumper with tow hooks and a replica winch and scale-realistic 1.9'' inch wheels, it is clear Traxxas pulled no punches when designing the TRX-4. Little features, like the included jack and functional spare tire, only add to the incredible scale realism of the TRX-4.
Luckily, the TRX-4 also stands on a rugged, sturdy foundation. Specifically, that is a heavy-duty, steel ladder frame with 1.5mm thick rails and molded, nylon composite crossmembers. That can withstand just about any trail, save for a minefield. On top of that, the Pro-Line Jeep Wrangler body also features molded rock sliders, which further help protect the TRX-4 from damage. However, the Pro-Line body lacks the roll cage found on the TRX-4's default body, which provides extra rollover protection.
While we're on the topic, the TRX-4 is also entirely waterproof. If you're not afraid of getting your vehicle a little dirty, the TRX-4 can handle creeks, mud puddles and snow without a hitch. That's unlike many other RC vehicles you will find on the market, which are splash-resistant, but not truly waterproof.
Powering the TRX-4 is a 16.8V Titan 21T 550 motor, running on 3S LiPo. Frankly, that's a bit underpowered. And, its underpowered motor is one of the TRX-4's notable flaws. In "low range," the truck cruises at a measly 2 mph. In "high range," it still only drives at about 7 mph. However, being blazingly fast isn't what this jeep is all about, and you probably weren't expecting that from it in the first place.
As a crawler, this truck is simply amazing. And, the Pro-Line RC Jeep Wrangler body only enhances this aspect. The TRX-4's portal axles deliver a stunning 3.14'' ground clearance and improved axle geometry, while also reducing strain on the driveshafts.
The Pro-Line Jeep Wrangler body further improves ground clearance and is lighter than the TRX-4's stock body. That provides for a lower center of gravity and enhances the TRX-4's crawling ability. It's safe to say that with the Pro-Line body and a few other minor modifications, this jeep will crawl over almost anything.
The TRX-4 doesn't have many notable flaws. While its motor is underpowered, you can excuse that. However, its stock 2075X metal gear digital steering servo isn't very reliable and should ideally be replaced. Sadly, Traxxas has a bit of a bad track record with its steering servos, and the TRX-4's servo is no exception.
Other than that, the Traxxas TRX-4 Scale and Trail Crawler is a great product out of the box. With a few modifications, it can excel even further. The Pro-Line Jeep Wrangler body transforms the TRX-4 into a true Jeep Wrangler and a monster off-roader. Its molded tube fenders and rock sliders serve to protect the TRX-4 from damage, and the enhanced front-and-rear ground clearance you get with the Pro-Line body will have this jeep crawling over almost anything.
The one minor flaw that holds it back is its unreliable steering servo. If you're willing to spend extra money on an aftermarket servo, then the Traxxas TRX-4 may be the perfect RC jeep for you.
#2 - Axial SCX10 II Jeep rubicon unlimited
axial scx10 II Jeep rubicon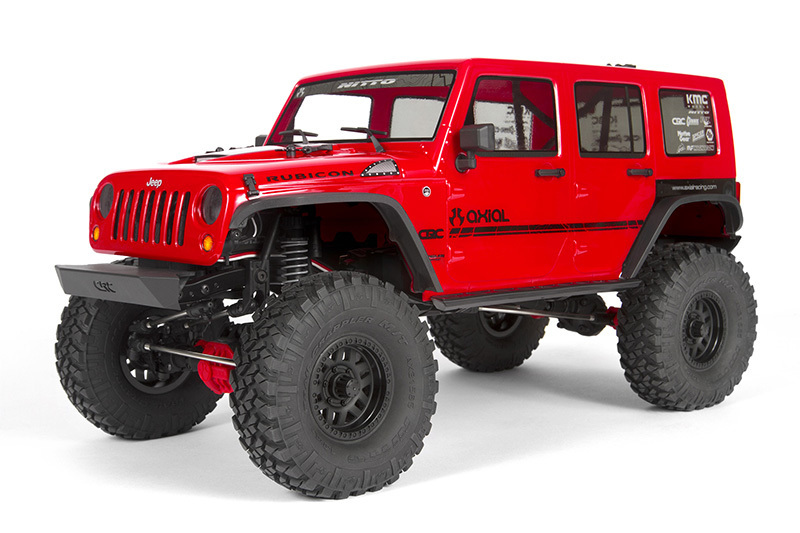 Remote control model enthusiasts around the world fondly remember the original Axial SCX 10. Its all-metal, twin c-channel frame provided unmatched durability and ruggedness. Building on that frame, Axial redesigned the rest of the vehicle. Has Axial done the original SCX10 a service?
Firstly, the SCX10 II is available in three body options. The most popular, by far, are the Jeep Wrangler and Jeep Cherokee liveries. The 2017 Jeep Wrangler is, of course, based on the iconic Wrangler Unlimited by Jeep. Meanwhile, the Jeep Cherokee is based on the equally iconic Cherokee XL, one of the first compact SUVs introduced to the American market.
Like the original SCX10, this jeep rests on a steel, c-channel frame rail chassis, with cross braces to improve torsional stiffness. It also features an adjustable wheelbase, with a stock length of 12.3''. However, you can easily adjust it to either 11.4'' or 12''.
The SCX10 II is outfitted with Axial's AR44 "Hi-Pinion" axles, which provide an impressive 3'' of ground clearance. With large load bearings around the gear set, a single-piece axle housing and diff locker in the front and the rear, it's clear Axial had durability and ruggedness in mind when designing this axle.
Its small pumpkin design provides improved ground clearance, but thankfully, AR44's precisely-measured gear ratio of 3.75 reduces the torque twist that's typical of such small pumpkin axles.
The SCX10 II uses WB8 HD Wildboar driveshafts in the front and the rear. With a 2x11mm diameter captured cross pin and M4 threaded rod ends, Axial designed these driveshafts to withstand even the worst trails.
As for the ESC, the SCX10 II is equipped with Axial's 3S LiPo-capable AE-SL ESC. Interestingly enough, the AE-SL ESC can also handle NiMH. Switching between LiPo and NiMH couldn't be any easier; it's just a matter of flipping a jumper switch. A second jumper switch controls the AE-SL's drag brake, which is another welcome feature. Lastly, the AE-SL boasts a laser-etched heat sink to prevent overheating, a feature the TRX-4 sorely lacks.
While Traxxas may be a master of scale realism, Axial is no slouch either. The SCX10 II boasts a molded plastic radiator, slots for LED headlamps and turn signals, molded side mirrors, door handles, wipers and a host of other impressive scale details.
A water-resistant 35T brushed motor with an integrated cooler is what powers this vehicle. The SCX10 II also features a Tactic TSX45 chassis mounted servo (CMS), which offers 151 oz-in of torque. That complements the SCX100's 45 degrees of wheel rotation. Its anodized aluminum links and M4 threaded rod ends ensure durability and ruggedness.
Lastly, Axial bundled in the Tactic TTX300 three-channel transmitter, an all-around impressive device. Its Secure Link Technology (SLT) ensures a stronger signal between the transmitter and the 2.4GHz Tactic receiver inside the jeep.
All in all, the Axial SCX10 II is an excellent choice for a Jeep kit, whether it's your first or if you're a long-time enthusiast of remote control models.
#3 - Orlando Micro Crawler
If you've ever used or even heard of Orlandoo before, it was probably because of their OH35P01 "Palm-sized" Crawler. That was a nifty little vehicle with an F-150 body and a good selection of extra parts for you to customize it with. It certainly wasn't an outdoor, off-road monster like the Traxxas TRX-4 or Axial SCX100 II above, but it was fun for kids and adults who weren't keen on spending too much money on a remote control vehicle.
Now, Orlandoo has launched the OH35A01 Micro Crawler. Does it do its predecessor justice, or should Orlandoo go back to the drawing board?
As always, let's look at the exterior first. The OH35A01 Micro Crawler's stock body is the Jeep Wrangler Rubicon, which many of you Jeep fans will, no doubt, appreciate. An alternative is an F-150 body, inspired by the renowned Ford truck.
With a length of about 5'', Orlandoo definitely puts the "micro" in "Micro Crawler" with the OH35A01. However, that's part of the reason why this jeep is a great indoor option and why it's kid-friendly.
Adults, however, will be able to appreciate the effort that went into this Micro Crawler. For a cheap, indoor alternative to the likes of Traxxas and Axial, Orlandoo did a fairly solid job, design-wise. What you will find is a full-time four-wheel drive, independent front-and-rear four-link suspension, friction dampers and even adjustable shock towers.
Depending on the kit the OH35A01 may require a DC 150rpm 130cc brushed motor with reduction gear, a 7.4V 2S 260mAh LiPo battery, an ESC and a "micro-sized" 2.2g digital servo and A transmitter and receiver that don't come with it.
Let's be clear – this isn't a simple kid's toy. Not that kids won't love playing with it, but assembling the 0H35A01 is an adult's job. Orlandoo isn't shy about this, however. They market this as a DIY project and a hobby remote control vehicle.
Firstly, the Jeep Wrangler Rubicon body is unpainted, so part of that process is painting it. Second and more importantly, there are a few holes that need to be drilled and a few parts that may even need sanding or trimming to get the right finish. Orlandoo doesn't include paint in the kit. That may or may not be a con to you, but if you're looking for a fun DIY project, expect lots of fun here.
However, if it's your very first time, it may be wise to ask for help from a more experienced modeler.
If you're an RC enthusiast, then it should be clear who deserves your attention first. Companies like Traxxas and Axial are the ones you should look at if you're interested in a heavy-duty, hobby-grade RC vehicle. But, what if you aren't a hobbyist? What if you're just looking for a toy for your kids?
It's obvious that spending up to $500 for a toy for your kid is overkill. That said, not every kid's toy is that cheap. As with any purchase, we always recommend that you do your research beforehand. Having the confidence that you're wisely spending your money should be a must.
But, back to the original question. Is there a kid-friendly alternative to a TRX-4 or an SCX100 II? One that also won't leave an airy gap in your wallet? The Orlandoo OH35A01 Micro Crawler is a good candidate. It's small, intended mostly for indoor use and very affordable on top of that. However, it's also fairly troublesome and time-consuming to assemble. Orlandoo definitely didn't expect any kids to try and build it on their own. Even adults are likely to struggle with it.
The Orlandoo OH35A01 clearly isn't ideal for the criteria we laid out above. If you had enough time on your hands and enough know-how, then you could probably assemble it for your kids without too much trouble. Otherwise, it's better to go with a product like the New Bright R/C Chargers Truck.
New Bright is a toy manufacturer, of course. Founded in 1955, the Hong Kong-based manufacturer built its expertise in mechanical design, injection molding, precision engineering and miniature motor making over the years. As far as toy remote control vehicles go, there isn't a more reputable manufacturer in North America.
Let's talk about their R/C Chargers truck, which is, uniquely enough, outfitted with a Jeep Wrangler livery. Firstly, let's get the bad out of the way. It probably won't come as a surprise to many of you, but it feels very cheap. The controller is made of poorly-molded plastic. The decals look very cheap and aren't centered properly. Sadly, it's a proprietary controller/receiver combo, so unless you're a solid tinkerer, it's what you're stuck with.
New Bright built the vehicle itself fine, for a toy. The decals still look very cheap and many of the details, like the grill and the headlamps, are just plain stickers. Again, how much that matters to you in an affordable kid's toy is anyone's guess.
As far as features go, New Bright included most of what you would expect in a toy RC vehicle. Interestingly enough, you can charge the R/C Chargers Truck with a USB cable, which is a unique feature for a toy. Included in the package are two AA batteries for the controller, a lithium-ion battery for the vehicle and even a USB cable to charge it with, which is a nice touch on New Bright's part.
All in all, if you're looking for a very cheap toy remote control vehicle, then New Bright's R/C Chargers Truck can serve as an exciting present for your kid's next birthday party.
A BIT OF JEEP HISTORY
Has there ever been a more iconic off-road vehicle than the Jeep Wrangler? Probably not, but the Jeep Cherokee could possibly give it a run for its money. If you're a proud jeep owner, then it's more than likely you're familiar with both. And, as Jeep has just unveiled the fourth generation of Jeep Wranglers, we thought it would be appropriate to look back at the history of the Wrangler and the Cherokee. Luckily, these two vehicles have plenty of history to talk about.
You might not know this, but the Jeep Cherokee was arguably the first compact SUV to enter the American market, all the way back in 1974. Its first generation, the SJ, was a redesign of the two-door Jeep Wagoneer. The Jeep Wagoneer deserves an honorable mention here for being the first-ever luxury four-by-four. Originally marketed as a station wagon, Jeep later used the Wagoneer's design for its first "sport utility vehicle," the Cherokee.
While it's debatable which vehicle, the Wagoneer or the Cherokee, pioneered the SUV concept, it's also a moot point as Jeep created them with a similar design in mind.
The Cherokee wasn't just a revamped Wagoneer, however. It had a few notable differences, namely a redesigned greenhouse, a wider D-pillar that replaced the Wagoneer's C-pillar and a single-piece, fixed rear side window. Jeep also began manufacturing a four-door version in 1977.
Jeep launched its second generation, the XJ, in 1984. It featured a unibody design. The Cherokee XJ was an innovator of modern SUVs. Many copycat vehicles came out in its wake, eventually replacing the station wagon. Its popularity led to the launch of Jeep's most successful line, the Grand Cherokee.
Looming on the horizon, meanwhile, was the launch of the first generation Jeep Wrangler. Originally built in Brampton, Ontario in 1986, The Wrangler was meant to replace the Jeep CJ line and was designed to be more comfortable to drive on-road, in order to attract more casual drivers. Nonetheless, the first Wrangler featured trackbar suspension links and anti-roll bars, trademarks of the off-road vehicle.
With few exceptions, all Jeep Wrangler models had a part-time four-wheel drive system, rigid front-and-rear live axles, a tapering nose and a fold-flat windshield.
Since 1992, Jeep has produced the Wrangler in Toledo, Ohio.
In 1996, Jeep launched the second generation Wrangler, reintroducing the vintage round headlamps of its early vehicles. Additionally, since the launch of the second generation, Jeep has fitted all Wrangler models with coil-spring suspension, instead of leaf-spring. That has carried on to the present day, with the fourth generation Jeep Wrangler unveiled in 2017.
If we look back at how these two vehicles have changed over time, we can see just how loyal to tradition Jeep has always been with the Wrangler and Cherokee.
With the second generation of Wranglers, the Wrangler TJ, Jeep reintroduced its vintage round headlamps and replaced the Wrangler's leaf-spring suspension with coil-spring.

The third generation of Wranglers featured a redesigned body and chassis. But other than that, very little changed about the Wrangler's original rigid front-and-rear live axles and fold-flat windshield.

Lastly, the latest generation of Wranglers features additional powertrains, a redesigned transmission and fold-flat windshield, and a few minor changes to the interior.
The Cherokee changed more than the Wrangler throughout the years. But, it still holds to many of the original design principles of the sport utility vehicle.
FINAL THOUGHTS
It's safe to say that, if you're a true hobbyist, the Traxxas TRX-4 and Axial SCX100 II will be on your radar first. But, at the end of the day, the RC Jeeps that are best for you depends on what you're looking for. If you're looking for stellar construction, durability, power, and handling, all in a sturdy, hobby-tier package, the TRX-4 and SCX100 II will not disapoint.
Sadly, the TRX-4 is held back a little by its unreliable steering servo. If you're lucky, or if you're willing to invest a little extra in a replacement servo, then it shouldn't pose much of a problem to you.
The SCX100 II deserves high marks in every category. Still, Axial hasn't yet been able to match Traxxas in terms of scale realism or attention to detail.
If you're looking for a budget alternative, then look no further than the HSP Off-Road Monster Truck. The Orlandoo OH35A01 Micro Crawler is our top pick for indoor fun all year round. And, if a very affordable kid's toy is all you're interested in, the New Bright R/C Chargers Truck will lighten up any RC Lovers day.
Although most will purchase RC Jeeps on a Crawler and Trail Truck chassis, there are many more excellent RC truck options discover on 10TrailTrucks.