There's just something about rc tanks that brings out the inner warrior in us. The sight of one makes you want to slap on some paint and head to the battleground. It probably takes us back to when we were kids and would have given anything to drive in one of them.
Even now, there's something about these beasts that pulls you in, ripping a battle cry off your lips in excitement. Well, maybe not literally, but you get the idea. Of course, driving an actual military tank is just not something you can do, not without years of training anyway. And there's the little thing about joining the army.
So, the idea of driving a military tank is challenging, but not impossible. With Remote Control tanks, your kids can experience the thrill of a military tank. But, this is not just about your kids. Sure, they're going to have lots of fun with one of these tanks, but you will probably have as much fun.
I have been an RC enthusiast for several years, but when I discovered RC military tanks, I knew there was no going back. By then, I knew quite a bit about RC vehicles and so I knew to check for speed and power, but that was about it. Boy, was I in for the surprise of my life. I got a tank that was powerful, could shoot and was great on the battleground.
Now, if this is your first time delving into the world of RC tanks then I can tell you firsthand that you're in for an amazing time. But, a lot is going to depend on the tank you get because let's face it, not all tanks are made equal.
You're going to have tanks that are made from plastic and those that are made from metal. Then there's die-cast tanks as well as Airsoft tanks. Frankly, there's a whole world to explore with different models and manufacturers. The options are almost limitless and I've tried a lot of RC tanks.
So, I've developed this buyers' guide to walk you through the amazing world of RC tanks and help you get the best value for your cash. There are more expensive types of machines out there, mostly hydraulic based models. These are for more serious hobbyists and they can cost thousands of dollars. This guide is not about those. It's about great RC tanks that can do lots of wonderful stuff. Tanks that you can battle and have loads of fun.
Each of these tanks has been selected to give you a great run at an affordable rate. In my experience, Heng Long and Abrams are excellent choices. But, any one of these is sure to get you hooked on RC tanks.
PELLET SHOOTING AIRSOFT TANKS
So, the vast collection of remote controlled tanks available all have something that makes them pretty special. But, the tanks that shoot pellets are definitely the coolest. Most of these tanks are really powerful machines that are strong and durable. They give a decent run but be warned, not all of them are all-terrain machines so you might need to be mindful of where you play with them.
I'm really excited to bring you this list of tanks. I've had lots of fun with each one of them. Some are better than others, but you'll definitely have a great time with whichever you decide to get. So, here goes.
Don't want to read the full article. No problem here are the 3 Top RC Tank Picks
LET'S NOT WASTE ANY MORE TIME AND GET STRAIGHT INTO THE DETAILED REVIEWS.
US Army Pro edition m26 tank
If you're looking for a pro tank that has all the bells and whistles, then you're absolutely going to love this one. A replica of the US Army M26 Pershing, this Remote control tank is solid and very well made. Like all the Airsoft tanks on my list, this tank from Heng Long looks like the real thing. With the realistic features, you are definitely going to enjoy this machine.
Features:
Pro tank with metal gears and track.

 

Both the gears and the tracks are metal, and this adds to the durability of the tank. So prepare to enjoy your machine for a very long time.
Realistic features.

 

Everything from the sounds to the recoil action, including the real smoke that comes out of the machine, is so realistic, it's amazing. This is one feature that will excite kids and bring out the little kid in you.
Simulative engine and cannon sound.

 

Although this falls in with the point I made above about how realistic this tank is, I decided it deserved an extra mention because this is some crazy stuff. It all sounds so real that it takes you right back to the frontlines – if you've ever been in the army.
Amazing turret rotation.

 

You can rotate the turret quite easily. In fact, it has a 360-degree rotation. But that's not all, the barrel can actually be raised up to 30 degrees.
Awesome full function transmitter.

 

The transmitter is totally awesome and can control a 7-way movement. Have a blast as you move your machine every which way. No one is going to get past you with this one.
Climbs slopes of up to 45 degrees.

 

Did I mention that this is a beast? Because it absolutely is. It's hard to imagine that a tank of this price range can do so much, and yet, there it is. I had lots of fun taking this one over slopes and it climbed with ease.
Full-scale RC function.

 

The remote controls the movements in different directions. But, what is most awesome about this is that it has an anti-jamming feature, which means that it's great for multiple players. You can really take your tank out to battle with this one.
Electric powered.

 

It comes with a battery that can be recharged and it gives a decent run time as well.
Negatives
Well, to be honest, I did not really find a lot of negatives with this tank. I loved almost everything about it except for one thing. It is not designed for lipo batteries. Now, this is not much of a problem for the average user, but if you are an RC hobbyist like me, then you probably switch your regular batteries with lipos for greater speed. Not so this one. But, you will have a great time with it.
 Thoughts…
So, if you're looking for a tank that is really fast, then you're better off looking elsewhere. However, if you need a machine that is very well built, is durable and comes at a great price point, then this baby is exactly what you're searching for. It does what it says and is not going to pack up on you like some others.
Pro edition german king tiger
This is another Heng Long tank and it is a pro edition German King Tiger (Porsche). And as RC tanks go, this one is a great option. I didn't have a lot of issues with it and it gave me a great run. So, here are the features as well as the one negative you might encounter.
Features:
Metal features.

 

The fact that this tank is metal earned it high points in my book. The gears are metal, so are the tracks, driving wheels and idler wheels. This is not just a machine with one of two metal parts, but it is almost full metal which makes for a longer lasting vehicle.
Replica of German King Tiger (Porsche) heavy army truck.

 

If you are crazy about army trucks as I am, you will immediately notice that this is almost an exact replica of the German army truck. It is that realistic. But, even if you're not that much into army trucks, you'll be struck by how real this looks.
Real features are so cool.

 

They absolutely are! The sound makes you think that you're in a real combat situation, same as the smoke and recoil action. Then the simulative engine and cannon sound are on another level. Everything about this truck is really so cool.
Electric powered.

 

It comes with a battery pack that is rechargeable as well as the USB cable for charging.
Turret rotation.

 

You can expect a 320-degree turret rotation with this tank. Plus, the barrel can be raised up to 30 degrees, which gives you amazing advantage when you're battling with this tank.
Totally awesome detail.

 

You will be struck by how much attention was paid to the detailing on the tank. It is just amazing.
Negatives
On a personal level, I did not encounter negatives as such, but I noticed that some smaller parts tend to fall out. This can be hazardous for younger children as well as a major irritation. However, you can easily glue these parts together and that puts an end to that problem.
Thoughts…
Generally, this is a piece of machinery that was very well made. I should add that they have incredible customer service so if you receive a tank with any problem, do reach out for a replacement.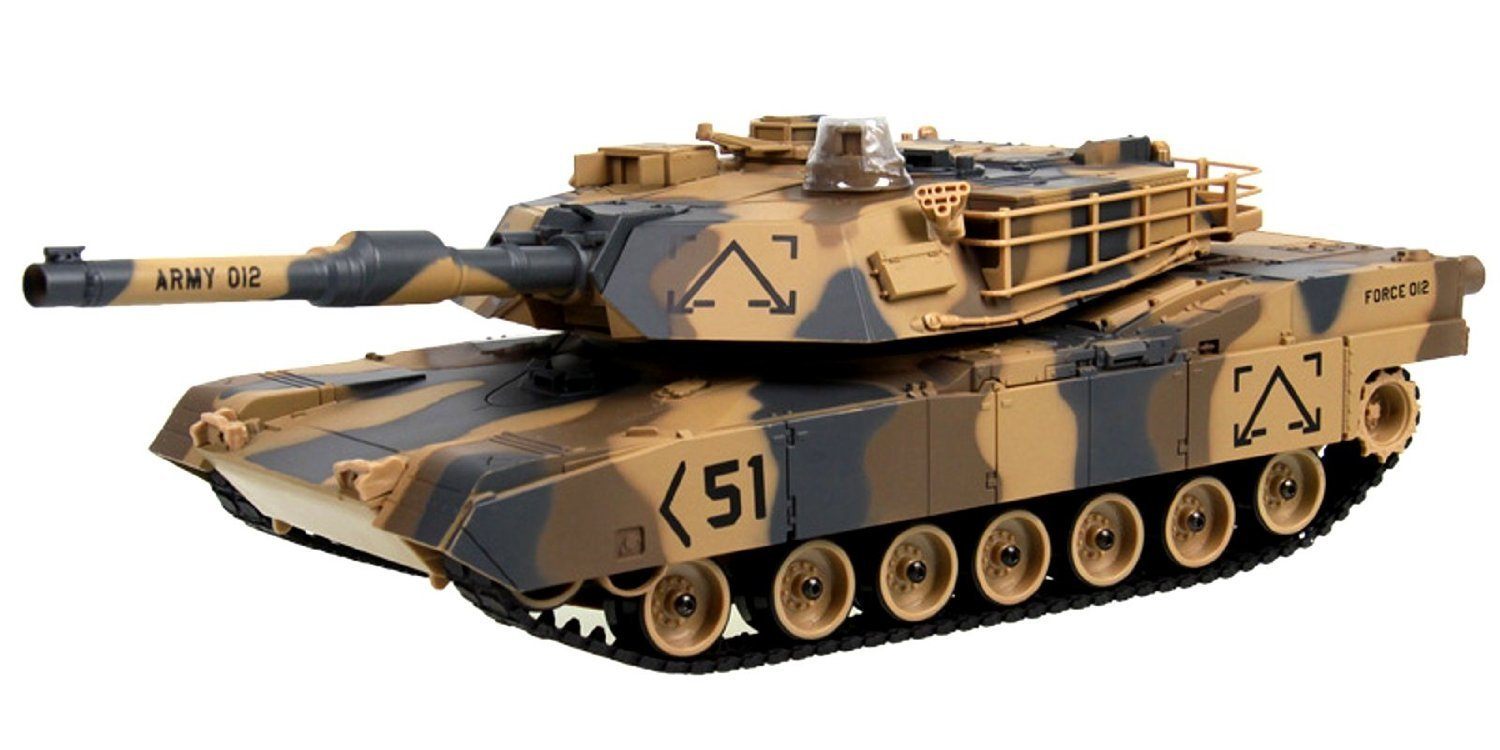 Now, the MIA2 Abrams USA battle tank is a value pick Airsoft military vehicle. I picked it because the price is really affordable. But, that was not my main motivation in picking this baby. Talk about a tank that gives more value than it costs and this baby from Abrams fits the bill completely. It is solidly built and doesn't just do what it says, it does way more.
Features:
Very realistic.

 

Everything about this vehicle is totally realistic. I know I've said that about the others, but let's face it, they wouldn't be on this list if they did not seem a tiny bit real.
Simulative Engine and Canon Sound.

 

The engine simulates a real military tank, so does the cannon sound. It sounds so like the real thing that you'll be grinning in delight.
Recoil action when canon fires.

 

When the cannon fires, it gives off a very realistic recoil action, which I had loads of fun with.
Shooting 6mm BB bullet, the hatch can load up to 50 bullets.

 

I think this says it all. Just think of what it means to have 50 bullets when battling this beast. Enough said.
Equipped with High Gripping Caterpillar.

 

You're going to love going on different terrains with this baby. I'm not saying it's an all-terrain vehicle because frankly, I haven't tested it on mud or snow. But, it goes easily over rough terrain and will run over almost anything you place on its path.
Multiple speed control.

 

You can go from slow to fast and back to slow again, easy peasy.
Decent run time.

 

Actually, compared to some other airsoft tanks, this one is better than decent. You can get approximately 20 minutes run time out of a fully charged tank, which is really great.
Negatives
So, I did encounter some stuff that did not particularly rock my boat and I'll mention them here.
Faulty O-ring protection. at first, I had some trouble getting this tank to run, then I discovered that the rubber o-rings protection for the drive mechanism had gone loose so this was causing issues with the axle. I was able to reseat the thing and it worked fine. Of course, it took removing a couple of screws, but since I'm handy, it wasn't a problem. 
Secondly, some tiny parts came loose. This could be a problem so I would suggest that you glue the small bits into place as they could easily come loose.
Finally, the sound effects can't be turned off. Sound effects are cool and all, but sometimes you just need some silence. And if you're battling, you want to be able to sneak up on the enemy. You can't do that with this truck because the sound won't turn off.
Thoughts…
Overall, I think that this is a really solid tank and it is great value for the price. Any age will enjoy playing with this vehicle, but note that it isn't recommended for younger than 14 years old. The detailing is great and the shoot distance is way beyond 9 feet. So, if you need a decent airsoft tank that performs well, this is a great option.
This is my second value pick and it gives a great performance. It's a full suspension vehicle and really well built. However, there are a few things to consider before you purchase this.
Features:
15 channel full radio control.

 

The remote controls almost every part of this vehicle so you get to see the different parts move, which is kind of cool.
Moves and spins in different directions.

 

It moves forward and backward with ease. Also, spins in different directions and rotates. That's great for easier maneuvering.
3-speed levels.

 

You can accelerate forward in three different speed levels. This gives some form of control and comes in handy when you need to execute a turn. It also has a 30-degree gradient climbing ability. Basically, this baby can climb!
Realistic sound and recoil.

 

The sound effects are very realistic, so is the recoil action when you fire the canon.
Extra battery pack.

 

No, it does not come with an extra battery pack, but they were thoughtful enough to let you know where you can get one. The fact that there's the option of an extra battery pack makes this a sweet deal.
Powerful air gun.

 

Need I say more?
All-terrain vehicle.

 

Yeah, and finally we get one that can move on almost any kind of terrain. I tried it on sand and mud and it ran just fine. I can't say about snow or on water though.
Awesome customer support.

 

When you've encountered hostile customer support, you tend to have an appreciation for the good ones. These guys have fantastic customer support.
Negatives
Frequency jamming.

 

So, this is not the best tank for multi-players. The frequency jams and it can be a very frustrating experience. This is definitely not the machine you want when you're looking to battle with a tank.
Cheap parts.

 

That's another thing, some parts really feel cheap, but these are just minor parts like the antenna.
Thoughts…
Basically, this is a decent military tank. Not great for battling, but awesome if you just need to play with an airsoft tank.
TOY RC TANKS & BUDGET PICKS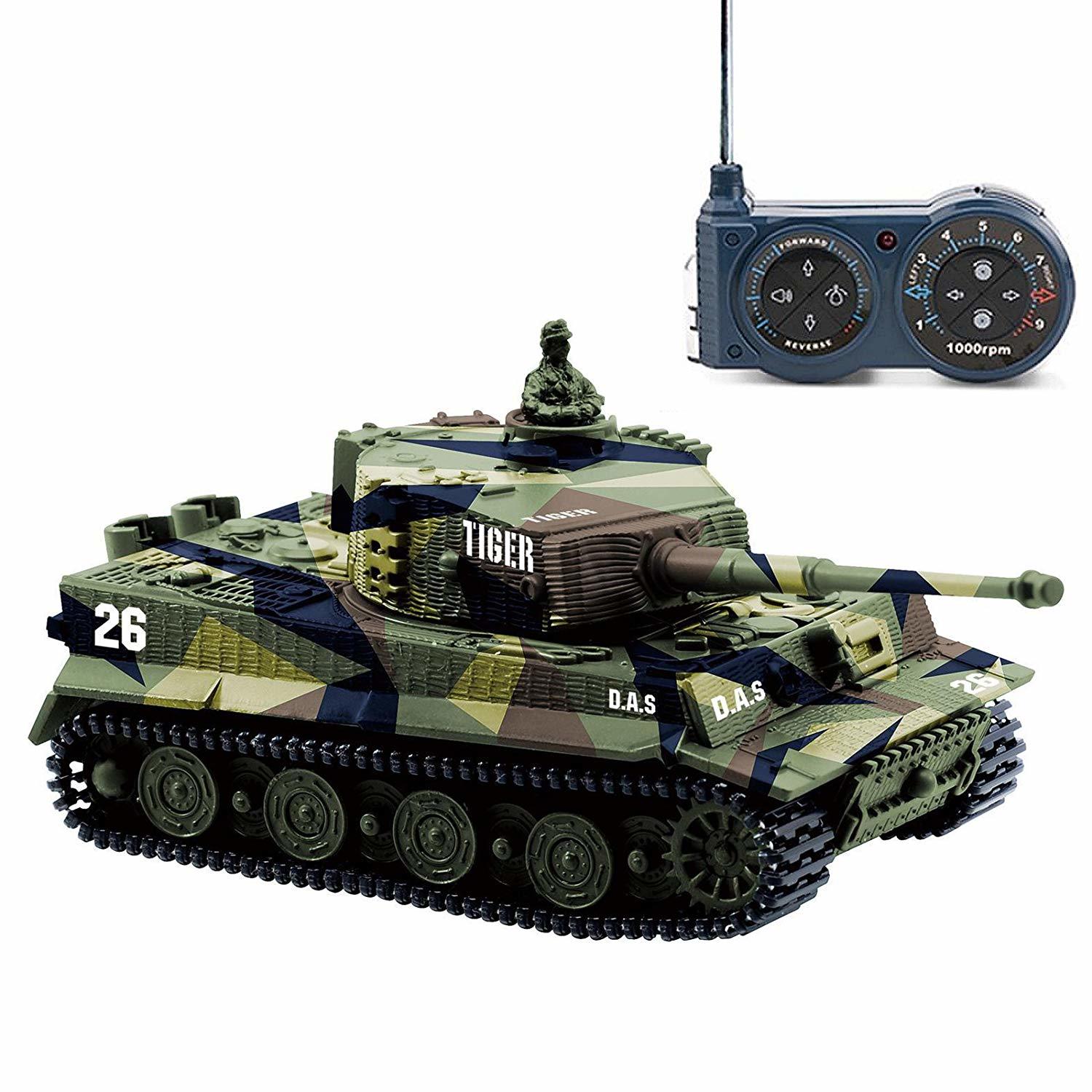 This mini tank is so cute you're going to have some aww moments. Yet, it is as realistic as you can get. It is important to remember that this is a toy, so the parts are plastic, which is okay.
Features:
Looks like the real deal.

 

It may be small, but this tank totally looks like you're holding a real tank in your palms (yes, it can fit into your palms). And, don't look down on its size either, it absolutely performs like the real deal.
Has plastic parts.

 

Some parts are plastic. Actually, it is more plastic than metal, which is okay considering it is a toy, which makes it safer for the player.
Turrets rotate at 360 degrees.

 

Cool feature that lets you turn the turrets any direction you want. 
Cute size.

 

So yeah, the size could turn some folks off, but it was one thing I really liked about this tank. It's so small, yet it does so much and it's really cute too.
Inbuilt rechargeable battery.

 

It has an inbuilt rechargeable battery.
Awesome run time.

 

It has a run time of about 15 minutes when fully charged. You're going to have lots of fun playing with this machine.
Controls more than one tank.

 

The remote can control up to 4 tanks at the same time. Buy more than one to experience awesome solo battling.
High and low speed.

 

This feature allows you to run the tank either at a high speed or a low speed. It didn't quite work out that way, but more on that later.
Realistic sounds can be shut off.

 

The realistic sounds effects are always a nice touch and the firing simulation also sounds quite real. However, you can always turn them off when you've had enough.
Negatives
So, I mentioned the speed and that was something I had a slight problem with. The slow is not slow at all and there's very little difference between the fast and the slow. This could be a problem when turning.
Again, the sound is loud, a little too loud actually, but the great part is that you can always turn it off by pressing the hi/lo speed button along with the turret rotation button.
Finally, you're going to need a screwdriver to get this tank out of its box. It's not much of a problem, just a slight annoyance.
Thoughts…
To be honest, this is quite a powerful tank. I totally was not expecting it to be so fast and powerful. Also, I found everything was as described and the detail was absolutely amazing. This mini tank can move on dirt tracks thanks to its flexible tracks. It is also quite durable. I must say that I was quite impressed with the little fella and it makes a fantastic toy for any age.
poco divo 2 battle tank set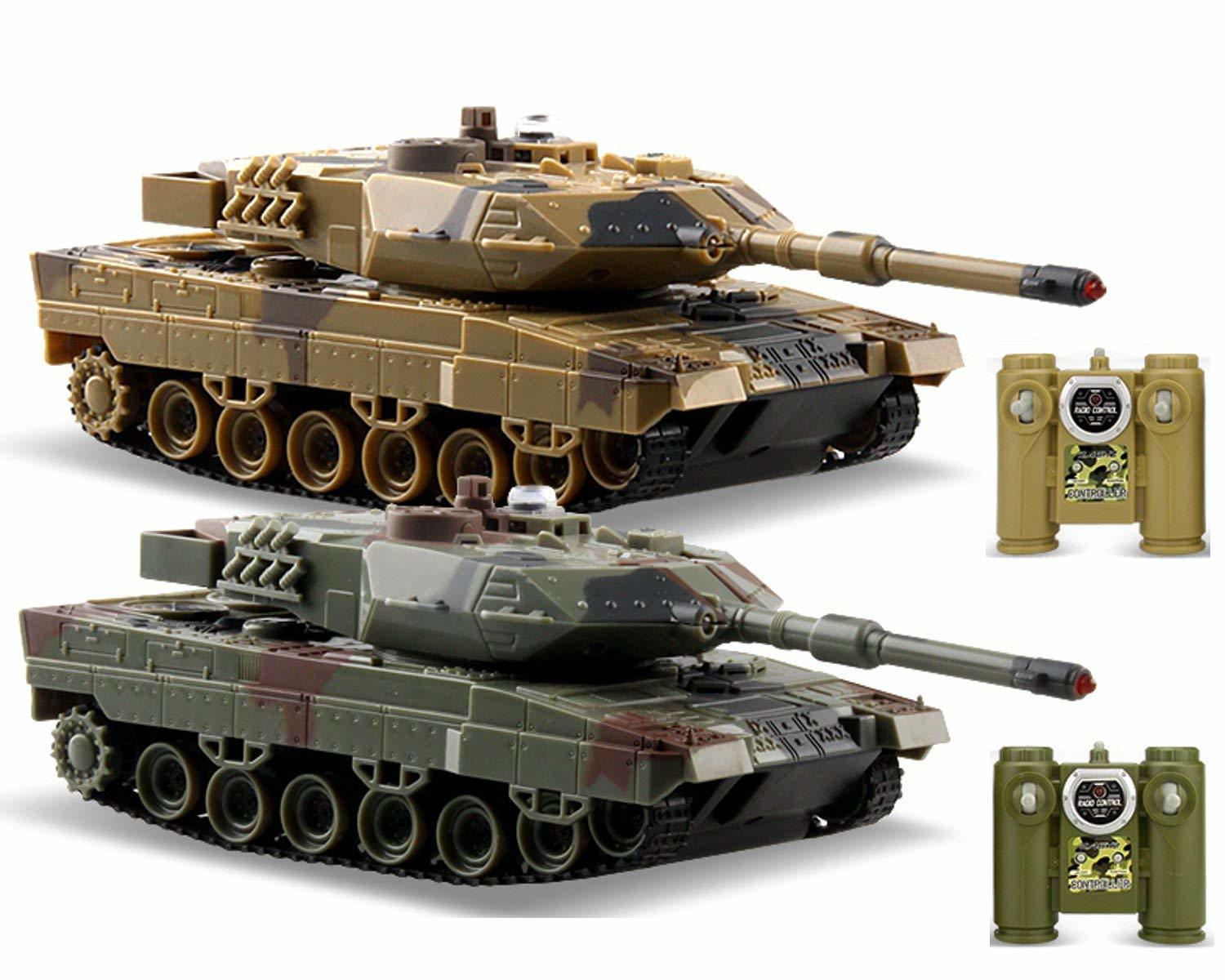 Ready, battle, go! This tanks come battle ready and set to deliver lots of fun to the player. It is a great toy and your kids will love it. I particularly liked how sturdy it was and it looks like it's going to last quite a while. Stick with just the 2 tanks or order more for an epic battle.
Features
Remote controls up to 16 tanks at the same time.

 

How awesome is that? You can keep yourself or your child occupied for a long time just battling with several tanks at once. This sounds like heaps of fun.
Can turn sound off.

 

I know I said that battling as many as 16 tanks was awesome, but can you imagine the damage to your ears if you're not able to turn off the sounds? Thankfully, that's not the case.
High gripping caterpillar.

 

Which means that your trucks are able to move on rough roads and climb slopes as well.
Realistic features.

 

I'm talking about the sound effects and the recoil action when fired. Totally real sounding.
Rechargeable battery.

 

Awesome USB charging for the batteries with a charge time of 2 hours. This means if the battery runs out, you'll be back on the field in no time. Just remember to turn off the tanks before charging.
Up to 20 minutes run time.

 

This baby can go and keep going. I was surprised by how much run time I got out of this tank.
Cool demo mode.

 

The demo mode is really cool and helps you figure out what to do when you first get the tank.
Negatives
I noticed that the second tank did not sync to the remote at first. But this was easily sorted as I took out the batteries in the remote and put them back in. And hey presto! Everything worked just fine.
Thoughts…
This is a great toy for any kid. It is strong and sturdy and will probably last a while. The details on both tanks are amazing and most kids will get excited to own this set. Heck, most adults too.
lego technic tracked racer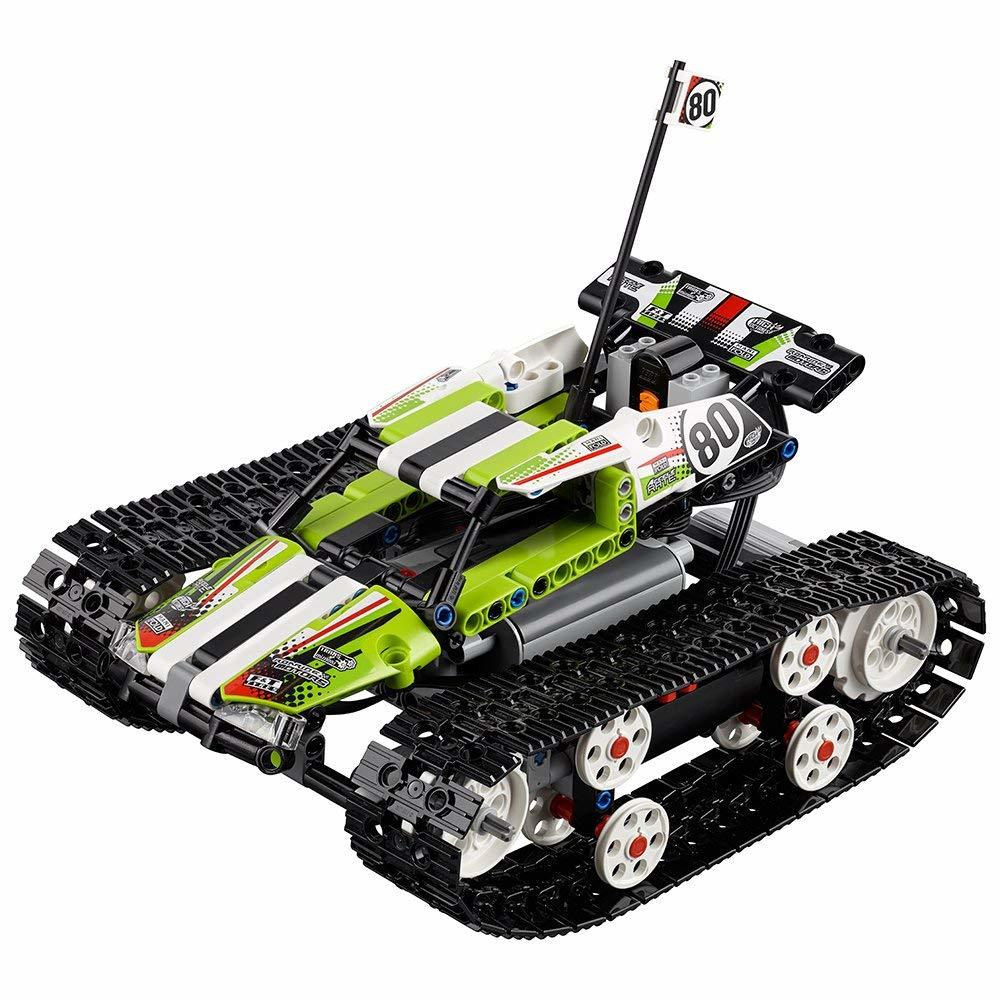 Indulge your inner builder with this LEGO Technic RC tracked racer. This tank had double appeal for me, it wasn't like most kits because there's just something about LEGO right? It is an amazing feeling to put stuff together and end up with something as cool as this remote controlled tank. I loved the performance and the way it looked was super cool. There's so much about this machine that you're going to find so amazing.
Build your RC tracked racer.

 

If you have a kid that's a builder, then he or she will absolutely love this. And if you have an inner builder nesting inside, this LEGO kit is sure to bring him or her jumping out.
Comes with awesome bricks.

 

So, you're not just getting the regular LEGO bricks here, but it also comes with the unique LEGO Technic 40th

 

anniversary brick. How awesome is that, right?
370 pieces.

 

Think of it as 370 pieces of sheer bliss as you put together a tank that you'll want to show off to everyone.
Awesome movement.

 

This baby moves with ease and you can drive it forward or backward, right or left. Plus, it can make a 360-degree turn and drive over large obstacles at the same time!
2-in-1 model.

 

When you get this kit, you also get a Tracked Racer for sure. But, it can easily be rebuilt into an RC Off-road truck, which gives you two vehicles in one.
Fast and sturdy.

 

But be warned, this is not for racing. it is fast, but not that fast.
Negatives:
Technically, this machine is great for both indoors and outdoors, however, the open frame chassis means that it might be better suited for indoor use.
Also, the batteries are not included so you'll need to purchase them separately. Thankfully, they are easily accessible.
Thoughts…
This vehicle is fast and surprisingly versatile. It's going to make a great gift for some kid and let's face it, for lots of adults as well.
The Air Hogs Robo Trax is a totally cool machine. As a truck, it moves smoothly and is really a pleasure to drive. But then it goes further and can transform into a robot. How cool is that? If you're from the age of transforming toys, you're going to go gaga over this. And your kids will definitely love this toy.
Features:
Thick threads for all-terrain driving.

 

An amazing feature of this vehicle is the ability to go over different terrains. You can drive it on grass, sand, gravel, and rocks easily. Note though that it isn't waterproof, so don't go dunking yours in water.
Easily transforms into a robot.

 

Seriously, I can't get over how easily it transforms from a vehicle into a robot. This is probably the coolest feature of this product. A simple push of the button and you have an awesome robot, standing upright.
Self-balancing technology.

 

You know how annoying it can be when a robot keeps tipping over each time it moves? Yeah, well you get none of that with this baby. The awesome tech helps it to maintain balance each time.
Sleek and awesome truck.

 

It is stunning to look at right out the pack and I won't judge if you decide to put it up on a shelf.
Drives amazingly well.

 

In terms of speed and acceleration, this tank delivers exceptionally well even on rugged terrain.
Nice effects.

 

It has both sound and light effects, which make it a fun truck to play with.
Battery:

 

It comes with a rechargeable battery. Charge time is about 60 minutes and the run time approximately 10 minutes. This could potentially be a problem, but I'll touch on that when I'm going through the negatives.
Missiles and missile bays.

 

It comes equipped with 2 missile bays and 6 missiles. Talk about battleground domination!
Negatives:
There's just one negative quality I encountered with this product and that's the battery life. it absolutely sucks. 10 minutes run time for 60 minutes' recharge is not a lot of fun. However, if you're alert and can get it charged as soon as it runs down, then you can keep your kids interested in this tank.
Thoughts…
Battery life aside, this is a really cool toy and I especially loved the transforming feature. It will make an awesome gift for a child.
remoking rc military truck 
Get your kids into the world of RC hobbyists with this awesome military truck. It is a fun truck and a wonderful way to introduce your kids to this world. It comes with lots of cool features, which I'll run through here.
Features:
Awesome real-time driving.

 

Experience the pleasure of being behind the wheel with the Wi-Fi camera. You can actually drive this truck in real time, from wherever you are.
Control your truck in different ways.

 

While most RC vehicles are controlled through the remote, you can use the app to control this baby. This means that if your remote has a fault (or you're too lazy to go back inside the house for it), you can simply use the app to turn your mobile device into a remote. That is super cool!
Fantastic 4-wheel driving. This tank is practically an all-terrain vehicle. It can go almost anywhere, except in water because it isn't waterproof.
Super awesome batteries!

 

So I'm really hyped about the batteries. First, they are rechargeable, which you'll get with most RC trucks. Second, you can get a cool 20 minutes run time out of fully charged batteries. But that's not what I'm excited about. That would be the two extra batteries which you can pre-charge, ready to extend the runtime of this baby. Yeah, I bet you're also getting excited now.
Full suspension system.

 

This is one tough beast and it's ready to face anything. It gives a solid performance that is remarkable for a toy. This also makes it great for both indoors and outdoors.
Negatives
Okay, so this baby packs a lot of power which might account for the fact that some people experienced breakage with their trucks. I had no problem with this, and you probably won't either. However, it was worth noting.
Thoughts…
A super cool truck that makes an amazing gift for kids.
KEY POINTS TO CONSIDER BEFORE PURCHASING A RC TANK
When you're thinking about buying an RC tank, things could get very confusing very quickly, particularly if you're not used to some of the terms. It's easy to stare in confusion and wonder what the difference is between plastic and metal or what makes a tank Airsoft? I'm going to attempt to clear things up a bit.
In my years as a hobbyist, I've come across (and driven) different kinds of RC tanks. Below are a few things to consider when buying yours.
Who are you buying it for?
This question seems redundant, but it's actually the first place to begin your quest. The caliber of RC tanks you would get for a child or a beginner is very different from what you would get for an advanced level hobbyist.
 Also, if you're buying a tank for a child, there are several safety issues to consider, depending on the age of that child. Some tanks have small parts that can cause a choking hazard and so are not appropriate for little kids.
Again, getting a plastic RC tank for an advanced hobbyist is just going to well, tank. So basically, you need to figure out who you're getting the tank for and what sort of player that person it. A good tip is to ask yourself how long that person has been driving RC trucks? If it has been for some time, then that person is probably an advanced user.
Understanding the different price points
Now, you might have noticed that the price points differ greatly. While some trucks are in the $100s, you will find others that cost as much as $5000. 
Generally, toys for kids cost less than the larger ones that are used for battle. The larger ones are usually made from metal and might run on hydraulic. Those ones are designed for RC hobbyists and collectors and cost way more than the plastic versions.
The micro tanks are also less expensive possibly because they are not meant for battling. These are mostly toys and are designed to be cost effective.
Features to look out for
So, you have a good idea of the person you're getting the tank for, as well as a price point that is comfortable for you. Next, are the features to look out for when getting an RC tank.
I should probably mention that it's almost impossible to get all the features in a single tank. You need to decide what features are important to you and which you can do without.
Airsoft: Airsoft tanks are used when battling. However, not all tanks are airsoft because they are not meant for battling. 
Material: Metal tanks are more durable and perform better on the battleground. Plastic tanks are also fun but are usually toys for kids. Die-cast models are usually a mix of metal and other materials and you'll find them usually at the mid-price point.
Performance: Some tanks are able to move forward, backward and side to side, while others combine that with an ability to spin 360 degrees. Yeah, and if there's a gun barrel, it might have the ability to move up and down as well.
Power: Do you want a tank that goes really fast or one that has a great run time. While battery powered tanks tend to run out very quickly, they are fast and affordable.
Size: RC tanks vary in size. This is measured in scales, using the real-life tanks as a comparison
That's a wrap. Here is a recap of all our favourite RC tanks for the year:
​Heng Long Pro Edition Remote Control 2.4Ghz 1/16 Scale US Army M26

Heng Long Pro Edition German King Tiger (Porsche) RC Tank

M1A2 Abrams USA Battle Tank RC

1:20 RC Tank USA Sherman M4A3 Main Battle Tank

Cheerwing 1:72 German Tiger

POCO DIVO 2-Set Infrared Battling Tanks

LEGO Technic RC Tracked Racer

Air Hogs Robo Trax All Terrain Tank

Remoking RC Hobby Toys Military Truck