There is no denying the awesomeness of heavy machinery. We can all remember admiring the sheer size and power of construction equipment in action. Wishing as a kid we could ride in one or even possibly operate one later in life.
Even as adults it can be pretty mesmerizing watching an excavator make small work of a somewhat challenging task. Fact is, simply jumping in and operating rc heavy construction equipment is not realistic and requires years of training and certifications. 
But not all is lost. You and your kids can operate an excavator or front loader after all! Or even build a full-on construction site in your own backyard. Enter the world of RC Construction Equipment.
"You are going to love operating Remote Controlled Construction equipment. Possibly even more so than your kids. Don't say I didn't warn you"
I got my first RC Excavator from a local hobby shop years ago. It was a spontaneous purchase and I had no expectations. I bought it for the looks and figured it would be good fun in the sandbox out back. Little did I know I would forever be hooked on RC Construction vehicles.
When it comes to RC construction equipment, there are many options available today. Whether you need a fantastic little RC loader or a scale replica RC dump truck – chances are you will be able to get your hands on a great kit.
However, not all RC construction equipment is made equal. I developed this article to help you find the best value loaders, dumpers, and excavators that I have had the best luck with. Over the years I have tried a lot of different dirt moving RC's, and to be fair, not many really fulfilled my expectations. After all, who would want to buy something that's utterly useless out of the box?
So, to make matters simple for you, the following buyers' guide will help you discover the best, affordable RC construction vehicles you can buy. But first, it's important to know a little bit about the categories of RC Construction machinery and why they vary drastically in price.
"There are toy grade RC Construction Kits and Hobby Grade Hydraulic Replica's costing 10K+"
Many of you will be on the hunt for a fun RC toy to play within the yard or with the kids. My recommendations are based on realistically affordable, yet good RC Construction choices. If you are a serious enthusiast, you may be looking into Hobby grade all metal hydraulic RC's. These are serious units easily costing $10,000 and beyond. Something of this caliber requires a more in-depth level of research. From my experience, the Wedico and Vario are some of the best high-end units you can buy. But, for a high-quality option, you can realistically afford… Defiantly take a look at this all-metal excavator by Top Race. 
SO WHAT ARE THE BEST VALUE RC CONSTRUCTION VEHICLES? 
There is no denying the awesomeness of rc heavy machinery. We can all remember admiring the sheer size and power of construction equipment in action. Wishing as a kid we could ride in one or even possibly operate one later in life.
Even as adults it can be pretty memorizing watching a excavator make small work of a somewhat challenging task. Reality is, simply jumping in and operating heavy rc construction equipment is not realistic and requires years of training and certifications. 
But not all is lost. You and your kids can operate a excavator or front loader after all! Or even build a full-on construction site in your own backyard. Enter the world of RC Construction Equipment.
Don't want to read the full article. No problem here are the 3 RC Construction Vehicle Picks
[azonpress_comparison id="13"]
LET'S NOT WASTE ANY MORE TIME AND GET STRAIGHT INTO THE DETAILED REVIEWS
THE TOPRACE 23 CHANNEL ALL METAL EXCAVATOR IS HANDS DOWN THE BEST VALUE RC CONSTRUCTION VEHICLE I HAVE EVER USED
The TopRace 23 Channel is not the cheapest RC Excavator, but all things considered it is amazing value. It fills the void between expensive 5k+ hydraulic RC's and cheep 80 dollar toy grade RC's. The problem with the cheeper plastic vehicles is they don't have the mass and power to actually dig. This is the big difference between the plastic and metal versions and why I recommend opting for an all metal version. After-all, this is why we are buying a RC excavator in the first place, right?
Toprace 23 channel all-metal excavator
[azonpress_tables id="14"]
The Top Race 23 Channel Remote Controlled Excavator is a fantastic piece of machinery. It sits on the crossroads between the toy grade plastic excavators and the more powerful, more expensive hydraulic RC excavators. There's no doubt that this is one excavator your kids are going to love.
And, yes we could pretend that it's just the kids that will have fun with this excavator. But, what's the point? By the time you've got a taste of the Top Race 23 Channel RC excavator, you'll need to get a second one. Just so you don't end up hogging the remote control.
So, what's so special about this RC excavator? A lot, actually. But it does have a few issues. But, will those issues be enough to put you off this excavator? I think not. But I'll let you decide for yourself.
What I like about the Top Race RC Excavator
This RC excavator has lots of stand up features and I'll just run through a few here.
Dirt digging excavator.

 

Unlike some of the plastic versions, this excavator actually digs dirt! To be honest, this is enough to make me a fan. Because let's face it, if you want to get anything even close, you'll have to shell out at least $5000 for a hydraulic RC excavator. 
Full metal cassis.

 

Okay, if you want to split hairs, you could point out the fact that some of the esthetics such as windows and hoses are plastic. But frankly, that's only to be expected and the fact that even the tracks are made from metal makes it easy to overlook that tiny detail.
Stable while digging.

 

You would think that a toy grade excavator would tip over while digging right? No one would blame you if you thought that way because that's usually the norm. Not with this Top Race excavator though. It's rock solid and heavy, making it steady on the ground. So feel free to dig away with this baby!
Really cool remote.

 

How often do you get a remote controlled machine where the makers pay detailed attention to the remote? Not often, I can tell you, which makes this a really cool feature of this RC Excavator from Top Race. The remote is coated with rubber which feels really nice to touch. Plus, you get to see the battery level. If you've ever experienced the frustration of having your RC machine just die on you, mid-race, then you'll totally dig this (no pun intended). 
Sound options.

 

So yeah, sounds are cool, but let's face it they can be a bit much at times. Which is why I really like this option. If you're down with the sounds, that's cool. But, if you would rather operate your machine in near silence, then you can easily turn this off.
Smoke options.

 

You know, options are really sexy. There's just something about being able to make a choice, in this case, the choice to bask in the realism of actual smoke, or to turn it off completely.
Smooth operation.

 

This is a really affordable machine, so I was a bit surprised by how smooth it was to operate. Talk about a smooth operator! 
Intuitive controls.

 

You're not going to spend days just learning how to get the dang thing to move forward. I found the controls intuitive. Of course, I come from an RC background, but I think they would be easy enough for anyone to learn.
Great run time.

 

Run time is very good. I was getting well over an hour of digging and driving around.
Includes.

 

There are 2 extra tools that are pretty easy to switch out. A grapple fork and drill. But don't expect to drill any really hard materials with it. 
Cool carry case.

 

Comes with a carry case which is a welcome touch. Makes storing and transporting the unit a breeze. But I prefer keeping it out as it looks too cool to be in a box. 
Top Race support surprised me!

 

Very polite and responsive. For this reason alone, I would feel comfortable recommending their products. 
Some Negative points
As impressive as this RC machine is, there are some things that were not as cool. To be fair, I didn't find a lot to put me off this Top Race RC excavator. Still, I thought I'd mention them anyway.
Funny sounds.

 

So yeah, engine sounds are cool, but they were not all that realistic and most times I found that I'd rather just turn off the sounds. 
The finish is slightly off.

 

The finish is okay, but I wish they'd taken a little more care on the detailing. Understandably, this is a budget RC so that's not too surprising when you think about it.
Battery and charger could use a little work.

 

I don't know if it's because it's a budget RC, but the battery and charger are below my standards. But if you are into RC like me, you likely have a good balance charger anyway. And if you're new at this, you'll soon find out that you need to get one.
My thoughts…
The Top Race 23 channel RC excavator is top grade. Of course, you won't get the same features as a 5,000-dollar excavator, but you'll definitely get a bang for your buck. And some digging as well.
elves and always have a great experience.
#2 - Best Value rc excavator
Toprace 15 channel excavator
[azonpress_tables id="15"]
As always, Top Race does not disappoint with this Remote controlled excavator. Made from strong and durable plastic, it features a realistic metal shovel. This RC excavator looks like the real thing and can easily be displayed on the shelf as a model of a real excavator. 
Personally, I would rather have put it through its paces. It certainly can handle the pressure. For something so small (and made from plastic at that), this is one RC machine that will have your little one jumping for joy.
Note, I said little one? If you are a hobbyist, or this is your first rodeo with an RC excavator, then the Top Race RC excavator is perfect. It is several grades away from an ordinary toy because of the metal shovel. Seriously, that metal shovel makes a lot of difference.
A metal shovel means that you can actually do some low-down, dirty digging. Well, maybe not low-down, but you definitely will love digging in the dirt with this one. It easily carries materials like sand and dirt.
Probably, what I like about this Remote controlled excavator by Top Race is the fact that it's made from plastic. That seems counter-intuitive because most people would prefer the all-metal or hydraulic excavators.
But, there's a reason to my madness. If you're new to RC excavators or you're buying this for a child, then this is a great way to discover if you really want to stick with this new hobby. The thing is, you wouldn't have spent so much money only to discover that you'd rather not own a construction company – even if it's a remote controlled one.
Also, it's durable enough to withstand a little bashing so if you do decide that you like it, you'll get some run out of it. 
So, here are some awesome features of this RC excavator
Looks realistic.

 

The Top Race remote controlled excavator looks very realistic, just like a real construction vehicle.
Strong metal shovel.

 

The shovel is made from metal and it's strong enough to move sand and dirt. You'll have lots of fun digging.
High Power.

 

There are three high powered motors connected to the digging arm. This lets it move 680 degrees in a realistic way. You're going to feel almost like you're handling the real thing. Almost.
Dynamic remote controlled movements.

 

The remote control easily moves the excavator in different directions. Whether it's backwards, frontwards or side to side, this baby moves with ease and grace.
High-performance toy grade machine.

 

For a plastic RC excavator, this beauty from the Top Race garage performs incredibly. It is supposed to be an all-terrain excavator and I can tell you that it does a decent job. 
However, I haven't tried it in water just yet, and I'm not likely to, either. This is such a fine excavator that I wouldn't want to risk ruining it. But, if you have your heart set on taking it through water, you could give it a try.
Decent remote control range.

 

The remote control can be operated at a distance of over 100 feet. That's not too bad at all.
Superb craftsmanship.

 

To be honest, you are going to be really tempted to just place this on a shelf and stare at it all day long. The craftsmanship is that good and, it looks just like a model of a real-life excavator.
Battery pack and USB charging cable included.

 

So, you're not going to need to purchase batteries and USB charging cables, at least, not for a while.
Excellent customer service.

 

I can't say enough good things about Top Race's customer service. It is beyond par. I never hesitate to get my remote controlled machines from them because I know I'm in good hands.
Negatives
Yes, there are some negatives. One in particular and it isn't really a negative, to be fair. It's just a case of preference, mine being for metal over plastic.
Even though the shovel is metal, the rest of the body is made from plastic. The plastic is strong, but it's not as durable as an all-metal RC excavator, obviously.
There are just so many Remote controlled excavators out there, particularly if you're searching for toy grade machines. I like this one because it lets you get your feet wet without hitting your pocket too much. It's affordable, durable and has a metal shovel. And yes, the metal shove is a big deal.
[azonpress_tables id="16"]
So, you've gradually been building up your toy grade construction company and you need to add a dumping truck to the mix. Introducing the HUINA dumping truck. It's made from plastic, but you're going to love how realistic it looks.
So, I'm not much of a fan of plastic remote controlled trucks, but something about this RC dumping truck from HUINA appealed to me. I'm not sure if it's how it looks like a perfect little model of a real dumping truck, or if it's the capacity.
Amazingly, the HUINA remote controlled truck can carry up to 10kg load and can actually unload up to 4kg of that by itself. This self-unloading feature definitely makes the HUINA RC truck remarkable.
For all that, there is still stuff that I didn't really like and I'll share them with you. First, let's take a look at the features I thought stood out.
Adapts to different kinds of terrain.

 

So, I wouldn't go so far as to call this an all-terrain remote controlled truck – let's not forget that it's a plastic truck. However, it easily adapts to complex road conditions without too much hassle.
Good performance.

 

This truck really surprised me with how well it performed. The tipping bucket simulates a real truck in its ability to rise and decline. That was a pleasant surprise.
Powerful.

 

The motor is quite powerful and lets the HUINA RC dumping truck finish up movements that should have been difficult for such a small fellow.
Self-loading and unloading.

 

Another amazing feature of this RC dumping truck is its ability to load and unload with maximum ease. It has a 10kg load capacity and can unload up to 4kg.
Realistic LED Lights.

 

The LED lights actually work, which is really cool. It gives the truck a distinctive look and lets it perform just like a real truck. Your kids are definitely going to love this feature.
Negatives
There are a few negatives that might put off a professional hobbyist. These can easily be overlooked as they are not deal breakers.
Slow charging time.

 

The charging time is extremely slow and takes all of 4 hours to get this baby running once more. This can be frustrating particularly if you have a child (or adult) that is impatient to play with the RC truck.
Slow run time.

 

After taking all that time to get the thing charged, you would think that it'd give you several hours of run time. But, no. You get just a miserly 30 minutes.
The HUINA RC dumping truck is plastic, and while that could be seen as a negative, it isn't in this case. Although it is made from plastic, it delivers and delights. It's also incredibly affordable, which is always a huge plus. As a toy or a first remote controlled toy, this isn't a bad way to start.
Thoughts…
If you value function over form and you have an appreciation for esthetics, then you will love this remote controlled truck. It's really lovely and I can see it sitting on a shelf as a piece of décor. It's also durable enough to withstand a little roughhousing, which is incredibly important.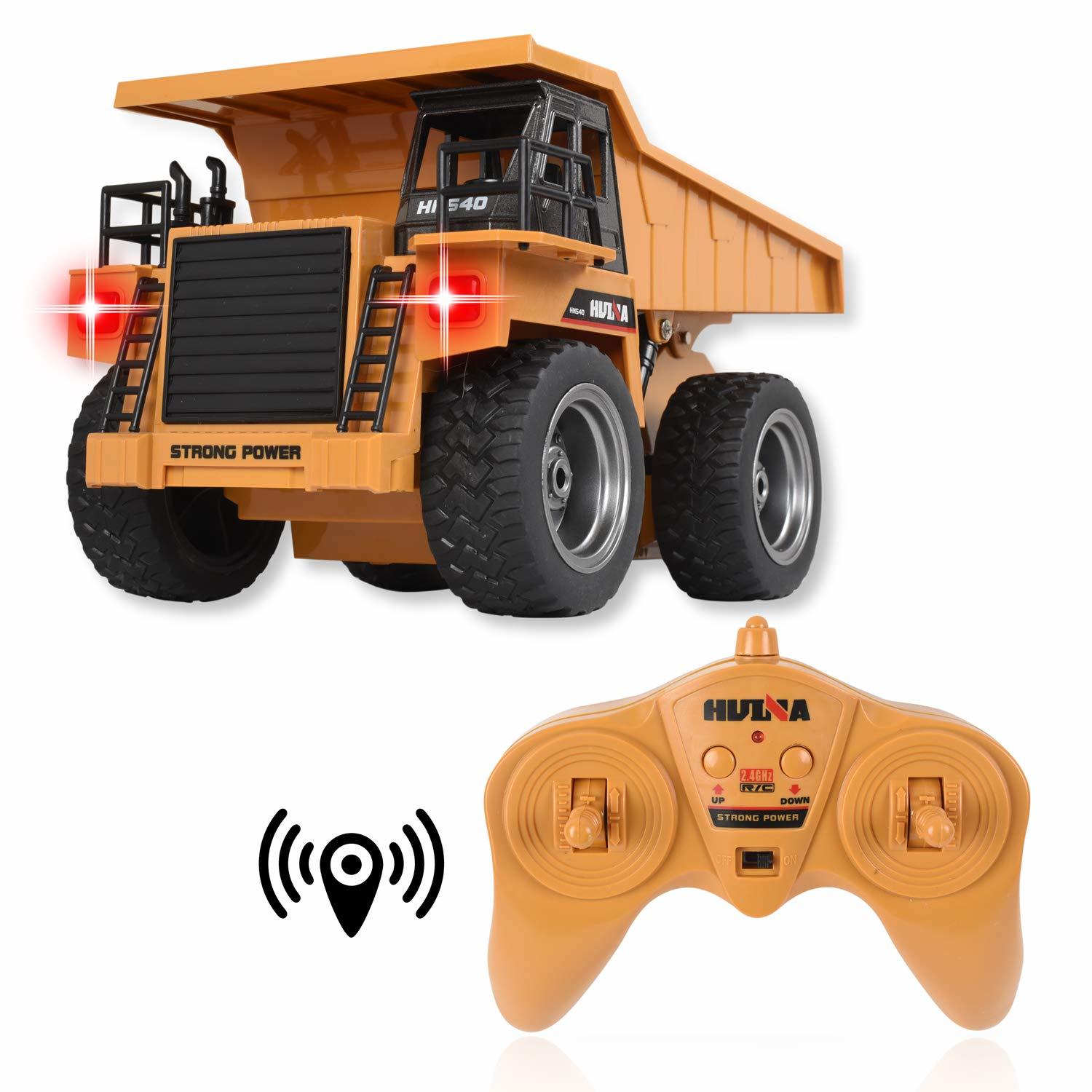 [azonpress_tables id="17"]
Now, this Huina RC Dumper is probably one of the best budget toys on this list. Even though it falls into the "we're on a budget" category, the quality of it is undeniable – and just wait until you see how it drives.
In the package, the model comes pre-assembled, and you also get the remote control and the USB battery charger. Once everything is set up, and the battery is fully charged, you're ready to go.
It drives like a tank, which might confuse you at first. However, controlling it is quite simple; the remote control has only a few buttons. It also has headlights in the front and taillights in the back of the dumper, so when you're going backward, they will turn on, and vice versa.
Overall, if you are looking for a decent and fun dumper, this model is one of the best choices. It's agile enough to drive relatively fast, and the bucket itself functions beautifully. It has a good incline, which means that you will easily dump anything out of it. Furthermore, the button that you will use for the dumping out doesn't allow for gear grinding. So, even if you hold the button for a long time, the bucket will just go up and down, without any damage done to the dumper itself.
The tires on this little dumper are made of high-quality rubber, and they feature a great pattern. Because of that, you can rest assured that this dumper will go smoothly over almost any kind of terrain and obstacles.
Lastly, you ought to know something about the quality. Don't let the price fool you – this dumper is worth every penny. Not only does it work exceptionally, but it's also well-designed and realistic-looking. Plus, if you get any other RC construction toys, you will surely have a lot of fun digging and dumping.
Product features
6 channel controls: backward, forward, left, right, bucket rise and bucket decline.
2.4Ghz radio system (the transmitter requires two 1.5V AA batteries – not included)
Real-life design
Made of metal and ABS plastic (non-toxic materials)
Gross weight: about 1.6kg
Charging time: about 2 hours
Running time: about 25 minutes
Battery: 4.8V 400mAh (comes with the dumper)
Transmitter batteries: two 1.5V AA (not included)
Dimensions: length: 280mm, width: 155mm, height: 150mm.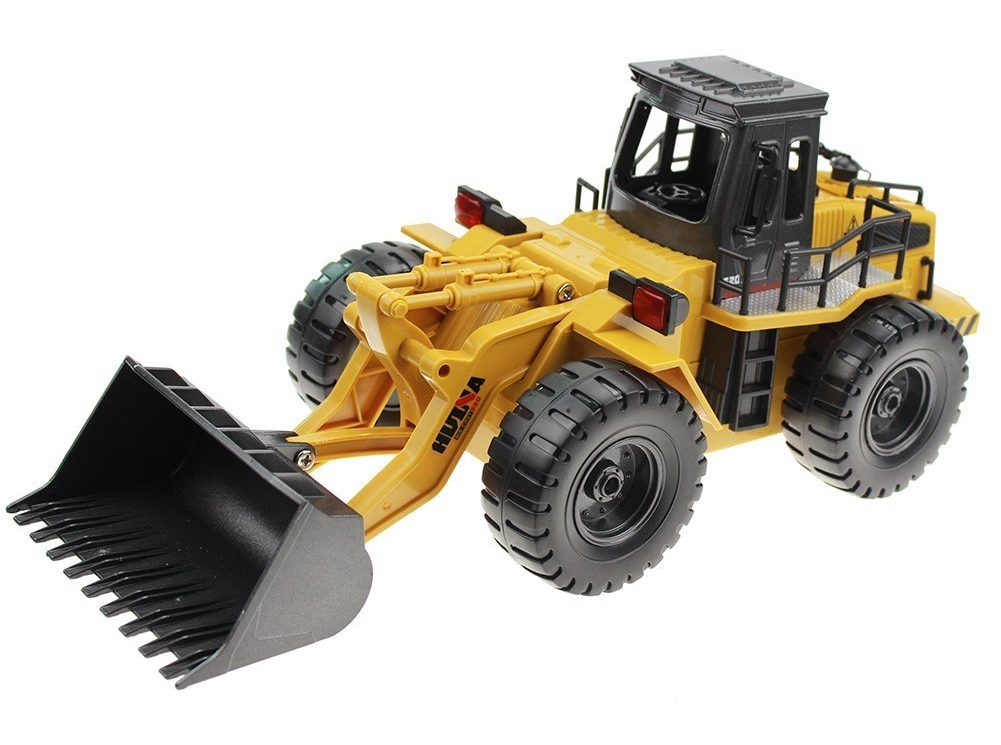 [azonpress_tables id="18"]
Now, if you're looking for an excellent toy grade RC excavator then you absolutely must take a look at this RC Alloy Shovel Loader from Huina.
Amazingly, even though it isn't metal and only the top is made of alloy, it's still a fantastic little piece of machine. There are lots of great reviews out there and this little guy's earned them.
So, I took the Hunina RC Alloy shovel loader for a run and found that it wasn't too bad. It was a little slow at the beginning, but I made a few adjustments and bam! The shovel loader performed pretty well.
The thing to note is that this excavator is not top of the range when it comes to RC excavators. For one, it's made mostly from plastic with some bits of alloy. For another, have you seen the price? 
Yeah, considering how amazingly affordable it is, I'm really surprised that the quality was just fine. Better than fine, actually. This particular Huina RC excavator is sturdy and durable and I can tell you, your kids (or grandkids) will love it.
Seriously, Huina did a great job with the RC Alloy Shovel Loader by paying attention to details. The machine has a realistic look about it and could pass for a model. It is one of those remote controlled vehicles that will look awesome on a table or a shelf. It is that good looking.
Then, the tires are made of rubber, which gives it a touch of realism. You know that classic pattern, which most all-terrain vehicles have? Exactly! So, you can imagine just how awesome this truck looks with those super cool tires. I was pretty impressed by the energy put into the aesthetics of the tires.
So, it's a bit light and maybe it might not move with as much power as some other models, but that can easily be rectified. A simple battery upgrade will give you an RC excavator that will thrill your kids.
Basically, I think this is a solid buy. For this price, it's going to be pretty difficult to come up with something that's this great. If you want an RC vehicle with higher performance, you would need to shell out more $$$. 
That said, I'll do a quick run of the features and mention a few things that I really liked and those I was not too thrilled about.
Product features
Some parts are alloy.

 

This makes it more durable than an all plastic excavator. It means that your little one is going to get to use this for some time.
6 channel full radio control.

 

I love the fact that it's easy to control. I had no difficulties using the remote and it's pretty easy to learn. Shouldn't pose too much of a problem for a young kid. Also, the RC Alloy shovel loader easily moves backward, forward and to the sides.
Plastic body.

 

I shouldn't forget to mention that the body of the truck is plastic. To be honest, I wish it were all alloy or even metal. But, when I consider the price point, I guess it's not a bad deal.
Great for indoor and outdoor use.

 

So yeah, I'll admit straight up that this is no all-terrain vehicle. It is not going to dash heroically through mud and slush. I'm not going to recommend you put it in water, either. That said, it's going to give you a more than decent run inside the house and outdoors. As long as you stay on the sand or asphalt. Oh, I also tested it on a rugged floor and it wasn't too bad.
The battery.

 

This can be a real problem because first of all, the battery is 4.8V 400mAh. To the non-technical, it simply means that it isn't a really powerful battery. Second of all, the battery life sucks. I mean, it simply just sucks. If you're lucky, you can get 15 minutes out of these batteries before they die on you. Thankfully, there's a way out. A simple battery upgrade will give you a longer run time as well as increased power and performance.
Cool movements.

 

The digging arm can move up and down, while the bucket tilts up and down as well. This adds a touch of realism to the machine, which is really cool.
Thoughts…
Generally, the Huina RC Alloy Shovel Loader is not a bad deal, if you're searching for a nice remote controlled excavator. It does what it's supposed to do, moves decently and will bring lots of pleasure to any child. I would say that it's a fun vehicle to have.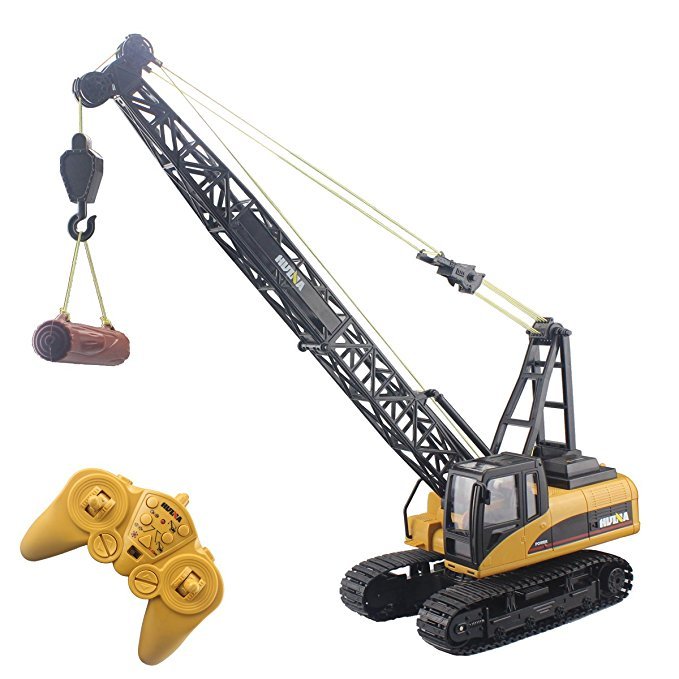 [azonpress_tables id="19"]
The TopRace tower crane is another great remote controlled vehicle that belongs in the construction yard. So, if you're building a toy construction company, this will be a great addition.
Seriously, for something that's so budget-friendly, this is a mean machine that performs amazingly. Don't get me wrong, it has its issues and downsides, but for the most part, it runs beautifully.
Now, what I really like about this truck is how well made it is. I'll say that TopRace did a great job with their tower crane because it's strong and not easy destroyed. Although it's made from plastic and some metal, the plastic parts are thick and sturdy. They took their time to design something of top quality.
Considering that this remote controlled tower crane from TopRace is less than a hundred dollars, I think it does a pretty good job.
So, I mentioned a few problems and to be honest, they can be potential deal breakers. The first is the run time. The battery life is poor and you'll be lucky to get 15 minutes on a fully charged battery. This should not be a problem, except that the batteries take forever to charge. Okay, maybe not forever, but when you're waiting to take this machine out for a spin, it can seem like a lifetime.
Of course, I should also mention that some folks were lucky and theirs has a run time of close to an hour. So, don't completely write off the TopRace tower crane because of this. I wasn't lucky, but that's not to say it's the same for everyone else.
Another problem is the amount of stuff this thing can carry. It can't carry really heavy stuff without tipping over. Then again, since this is a toy and not even a hobby grade one, I suppose it's only to be expected.
Overall, it's a cool vehicle to have. It's strong, sturdy and moves smoothly. Kids will love it and if you're new to RC vehicles and want to try out something that's budget friendly, then the tower crane by TopRace is a good place to start.
Product Features
Made from high-quality materials.

 

This tower crane is made from sturdy plastic and metal, which means it is strong and durable.
Die-cast alloy hook up and down.

 

The hook  is made from heavy-duty metal so ideally, it should be able to carry a really heavy load. However, the makers didn't account for balance. So, if the load is too heavy, this baby's going to tip over.
High-quality rubber tires.

 

The tires are high grade and move smoothly over most terrain. However, despite what the description says, this is not an all-terrain vehicle. I tried it out on the grass and the rubber came out.
Rechargeable batteries.

 

The batteries can be recharged with a USB charger. To charge the batteries, you'll need to unscrew the battery pack, then charge the batteries using the charger. There's no way to charge them while they're still in the truck, that didn't work out too well for me. So, unscrew the battery pack first.
Run time.

 

The run time isn't great, to be honest. See, the TopRace tower crane really moves well and is a lot of fun. Once you get into it, you don't want to stop. But, you're going to have to after just 20-30 minutes. I never could get much more than 10 minutes run time, but it's probably because I got it doing crazy stunts anyway since most people get a little more than that.
Performance.

 

It performs like crazy. Does everything it's supposed to do and even hooks up stuff without your having to get up to assist it. This is definitely a high performer, just don't give it too much load and you'll be fine.
Sounds and Lights.

 

It comes with sounds that almost sound realistic as well as colorful lights. Feel free to turn either off or on.
2.4G Remote Control.

 

Easily play with more than one remote controlled truck without getting interference thanks to the anti-jamming technology. The remote moves the hook as well as the bucket. While the hook moves up and down, the bucket also tips up and down.
Thoughts…
So, this is a great toy for children and if you go ahead and get it, you need to keep that in mind. Because this tower crane by TopRace looks so realistic and has a decent run, it's easy to forget that when all is said, it is a child's toy.
That said, this is an RC truck that will bring lots of joy to the child or children in your life. And, if you're an RC enthusiast like me, you'll get some kicks from this crane as well.
[azonpress_tables id="20"]
If you like them big, you're going to love the Huina forklift. Not only is this model big, but it is also heavy and lots of fun to drive. For something so heavy, you would expect that the battery life would be trash, right? Wrong. This forklift will give you up to 30 minutes' runtime, which I think is pretty amazing.
But, the most amazing part is the dual functions. You think you're buying a forklift and that's what you expect to see. But when it arrives, you discover that what you actually get is a forklift AND a crane. How awesome is that?
Also, I discovered that it really could lift objects without tipping over. Well, it is big and sturdy so it has some natural self-support, which I found missing in some other brands.
So yeah, this is something kids will love, but as someone who plays around with RC vehicles a lot, I must say that I had a lot of fun with this baby. I tried to keep my expectations low, but this forklift by Huina exceeded them.
Amazingly, it looks so realistic. I almost went looking for my hardhat when I tried out this forklift. It's made from plastic and metal and the materials are top grade. There's a lot of attention to detail here and it shows not just in the design of the vehicle, but also in the remote.
Now, the remote is exquisite and has about 7 channels so it may be a bit intricate to operate. However, there's a handy manual that explains everything. You can easily move the forklift forward, backward and to the sides.
Again, it comes with an auto demo so all you need to do is hit the button to get a feel for what this baby can do.
Product features
Dual function.

 

Simply by removing the fork and replacing it with a hook, you get two different vehicles. A forklift and a crane all rolled up in one cool truck.
Size.

 

This is a huge truck and it's bigger than most. This means that it's sturdy and solid on the ground. The size was a surprise. For the price point, I didn't expect something this big. Without the packaging, it comes to a little under 5kg, which is something.
Run.

 

It has an excellent run and can be operated both indoors and outdoors. Although it seems more like an outdoor vehicle, mostly because of the size. You'll have more fun playing with this out in the yard and if you have more RC excavators, then that's even better!
Battery life.

 

That's one of the cool things about this Huina forklift. It has decent battery life and you can get up to 30 minutes' runtime out of a fully charged battery. For something so big, that's so awesome.
Battery.

 

The battery is included in the package as well as a USB cable for charging. It takes about 2 – 3 hours to charge. Not bad at all.
Remote control.

 

This forklift has an 8-channel remote. Not surprising really considering the dual function. The downside is that it could be a bit challenging to operate, at least before you get the hang of it. Thankfully, the manufacturers seem aware of this and included a demo button.
Thoughts…
I really liked the Huina remote controlled forklift and the fact that it could change into a crane was a nice surprise. This is going to be a delight for most kids and if you're getting it for yourself, you'll love it too.
KEY POINTS TO CONSIDER BEFORE BUYING ANY RC CONSTRUCTION VEHICLES
If you're new to the world of remote controlled construction vehicles, it would seem a bit confusing, which is not surprising really. There are so many things to consider.
For instance, if you're talking materials, how do you decide between plastic, metal or hydraulic. And, what equipment exactly do you buy? There are so many from excavators to cranes, dump trucks, you name it. you can get the entire range of construction vehicles in remote controlled form.
Now, the aim is not to further confuse you, on the contrary. I have put this guide together to help you with your purchase. The thing is, you need to know what you're looking for and once you have that down, buying an RC construction vehicle should be a breeze.
Understanding the different levels of RC Construction machinery
First, there are different levels of RC construction vehicles, and I'm not just talking about the type. You might have noticed that some remote controlled equipment look the same but, have widely varying price points. There are several things that influence that, but one of the determinants is the grade of the equipment.
Now, you're probably wondering what I mean by 'grade'. Simply put, there are three major grades:
Toy grade
Hobby grade
Hydraulic replica hobby grade
Toy-grade RC construction equipment: Toy grade RC equipment might look a lot like the other grades, but one key difference is usually the cost. A lot of thought is put into the design, but it is made in a way that reduces production costs. So, if a toy grade RC has a problem, you're better off buying a new one or asking for a refund. Because they're not usually made with replaceable parts. Also, they're usually made from plastic, metal or a mix of both. Most importantly, they're designed to be toys for children.
Hobby grade RC construction equipment: Hobby grade, ready-to-run (RTR) models are designed for RC enthusiasts. These are not toys in the strict sense of it, or they can be considered toys for grownups. While toy grade models are for kids as young as 4 years old, hobby grade models are usually from age 14 and above. These designed with components that can be repaired or replaced and are usually made form slightly higher grade materials than the toy grade version.
So, when would you purchase hobby grade RC construction machinery? Probably if you're buying for an older kid or for a grown up.
Hydraulic replica hobby grade: This is the serious stuff for those who take RC vehicles seriously. They're the bad boys of the RC construction world, are often large and can do almost anything a real industrial vehicle can do, thanks to the hydraulic cylinders. Generally, they are more expensive than other types of RC construction machinery and some hydraulic replica grade construction equipment can cost up to $5,000.
What is the vehicle going to be used for?
Second, you need to have a good idea about the purpose of the vehicle. Now that you know the different types of grade, what grade are you going to get? This will depend a lot of why you're buying the RC industrial vehicle in the first place. If you're buying for little kids, then going for a toy grade is probably a good idea.
Understanding the different types of RC construction vehicles
Third, just as there are several types of construction equipment in a real construction yard, there are also different types of RC vehicles and they're all used for different purposes.
So, you can have an excavator for digging dirt, and if you want to get a vehicle for your child to play within the sandbox, then this is a great option. Otherwise, you can choose between a loader, a dump truck, crane or forklift. 
Excavator is used for digging.
A loader is used to move material from the ground into a dump truck.
Dump truck, used for moving materials from one place to another.
Crane, used for lifting heavy stuff.
Forklift is used for picking objects from the ground, then raising them to move.
The type of RC construction vehicles you choose will depend largely on what you want to use it for and where you want to use it.
Safety points for kids when using full metal and hydraulic versions
It is important to note that the full metal and hydraulic versions can be dangerous for kids. This is why most are designed for age 14 years and above.
However, if you decide to get a full metal or hydraulic version for your kid, here are some safety points to keep in mind.
The first point is to ensure that the RC vehicle is age appropriate for your child.
Read the instructions and explain the points to your kid, particularly the areas dealing on safety.
Examine the vehicles to ensure that there are no sharp ends.
Regularly check the RC construction vehicle for signs of damage, including rust, sharp edges and anything else that might be dangerous to kids.
FINAL THOUGHTS
Finally, RC construction equipment can be lots of fun for different ages. There are all sorts from budget-friendly remote-controlled vehicles to high-grade RC industrial equipment. The important thing is to get a good quality one and whatever you do, remember to have fun.